Does the NSA Spy on Congress? Sounds like Yes
Tuesday, January 07, 2014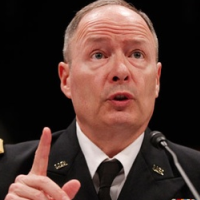 Gen. Keith Alexander (photo: Charles Dharapak, AP)
Sometimes a non-denial is as good as a "yes." Last week, U.S. Senator Bernie Sanders (I-Vermont) asked the National Security Agency (NSA) if it had spied on members of Congress. The agency responded in writing, and nowhere in the statement did the agency simply say "no" to the question.
Sanders asked Gen. Keith Alexander, the director of the NSA, in a letter dated January 3 whether it "has spied, or is…currently spying, on members of Congress or other American elected officials."
The senator defined "spying" as "gathering metadata on calls made from official or personal phones, content from websites visited or emails sent, or collecting any other data from a third party not made available to the general public in the regular course of business."
It would seem that if the NSA had never snooped on Capitol Hill, the agency would have simply assured Sanders that no such surveillance ever had, or is, taking place.
Instead, the agency responded with this: "NSA's authorities to collect signals intelligence data include procedures that protect the privacy of US persons. Such protections are built into and cut across the entire process. Members of Congress have the same privacy protections as all US persons. NSA is fully committed to transparency with Congress. Our interaction with Congress has been extensive both before and since the media disclosures began last June."
Given the numerous revelations last year that the NSA had collected metadata pertaining to millions of American's communications despite its "procedures that protect the privacy of US persons," the statement wasn't at all reassuring for members of Congress who "have the same privacy protections as all US persons."
The NSA also said that it was still "reviewing Senator Sanders's letter" and that officials "will continue to work to ensure that all members of Congress, including Senator Sanders, have information about NSA's mission, authorities, and programs to fully inform the discharge of their duties."
Meanwhile, James Clapper, the director of national intelligence, announced shortly after Sanders' letter went public that the Foreign Intelligence Surveillance Court, which oversees and authorizes NSA surveillance activities, had given the agency another 90 days to collect the domestic phone records of Americans.
Sanders' letter wasn't the first time that the question of NSA spying on Congress has arisen.
Last summer, Attorney General Eric Holder was asked the same question by Senator Mark Kirk (R-Illinois) during a congressional hearing. Holder responded by saying the NSA had no "intent" to spy on Congress, adding that the matter should be discussed behind closed doors.
-Noel Brinkerhoff
To Learn More:
NSA Statement Does Not Deny 'Spying' on Members of Congress (by Spencer Ackerman and Martin Pengelly, The Guardian)
NSA Won't Say Whether It Spies on Congress (by Matt Knight, CNN)
NSA Director Alexander Admits He Lied about Phone Surveillance Stopping 54 Terror Plots (by Noel Brinkerhoff, AllGov)
NSA Violated U.S. Privacy Laws at Least 2,776 Times…In One Year (by Matt Bewig, AllGov)