NSA Director Alexander Admits He Lied about Phone Surveillance Stopping 54 Terror Plots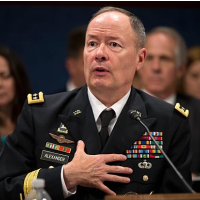 Keith Alexander testifying to Senate Intelligence Committee (photo-: J. Scott Applewhite, AP)
The head of the National Security Agency (NSA) admitted before a congressional committee this week that he lied back in June when he claimed the agency's phone surveillance program had thwarted 54 terrorist "plots or events."
NSA Director Keith Alexander gave out the erroneous number while the Obama administration was defending its domestic spying operations exposed by whistleblower Edward Snowden. He said surveillance data collected that led to 53 of those 54 plots had provided the initial tips to "unravel the threat stream."
But Senator Patrick Leahy (D-Vermont), chairman of the Senate Judiciary Committee, said on Wednesday during a hearing on the continued oversight of the Foreign Intelligence Surveillance Act that the administration was pushing incomplete or inaccurate statements about the bulk collection of phone records from communications providers.
"For example, we've heard over and over again that 54 terrorist plots have been thwarted by the use of (this program)," Leahy said. "That's plainly wrong," adding: "These weren't all plots and they weren't all thwarted."
Alexander admitted that only 13 of the 54 cases were connected to the United States. He also told the committee that only one or two suspected plots were identified as a result of bulk phone record collection.
Leahy was not happy. "We're told we have to [conduct mass phone surveillance] to protect us, and the statistics are rolled out that they're not accurate," he said. "It doesn't have the credibility here in the Congress, it doesn't have the credibility with this chairman and it doesn't have the credibility with the country."
-Noel Brinkerhoff
To Learn More:
Patrick Leahy Calls Out Obama Administration on Terror Plots Thwarted by NSA Spying (by Travis Gettys, Raw Story)
NSA Chief Says Surveillance Programs Helped Foil 54 Plots (by Courtney Kube, NBC News)
Information Requests from Congress and Federal Agencies Fall on Deaf Ears at NSA (by Noel Brinkerhoff, AllGov)
After Bragging about Using Surveillance Law to Catch Terrorists, Government Balks at Proving it in Court (by Matt Bewig, AllGov)