Director of the Office of Personnel Management: Who Is Jeff T. H. Pon?
Wednesday, September 13, 2017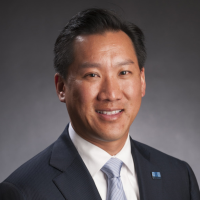 Jeff T. H. Pon
The Office of Personnel Management (OPM) is the federal government's human resources (HR) entity, but President Donald Trump has had trouble filling the job. His first pick, George Nesterczuk, was nominated in May but withdrew in July in the face of labor opposition. Last week, the White House announced Trump's nomination of Dr. Jeff T. H. Pon, a career HR man. OPM has lacked a permanent director since Katherine Archuleta resigned in 2015 after a series of devastating cyberattacks that caused the loss of more than 20 million personnel records.
Born March 9, 1970, to Bok Foo Pon and Agnes Lai Sheung Pon, Jeff Tien Han Pon grew up in the San Francisco Bay area and graduated St. Ignatius College Preparatory school in 1988. He earned a B.A. in Psychology at the University of Southern California in 1992 and a Ph.D. in Industrial Organizational Psychology at Alliant International University, a for-profit institution in San Diego, in 1997.
Pon served in the White House Office of Public Liaison from 1991 to 1992, the final year of the George H. W. Bush administration. From 1990 to 2000, he worked at several big corporations, including Federal Express, Taylor Made Golf, Williams Sonoma, Sempra Energy, Qualcomm, HP, Siemens, Hyperion Solutions, PetCo, and Burger King.
Pon was a consultant at Seagate Technology from 2000 to 2001, and was director of mentoring at Brandsoft in Los Gatos, California, from September 2002 to May 2003, where he provided mentoring services and software.
Pon returned to public service in June 2003, serving as deputy director for eGovernment at OPM in Washington until December 2005, focusing on modernizing the federal government's personnel practices, including helping to lead the rollout of USAJobs.
Pon left OPM to serve as chief human capital officer at the Department of Energy from January 2006 until his resignation in August 2008.
Pon worked as a principal at D.C. area mega-contractor Booz Allen Hamilton from September 2008 to September 2011, serving as a liaison to various government agencies.
Pon was, briefly, president and COO of Futures, Inc., a talent management software company that worked with returning veterans, from September 2011 to February 2012.
Pon has been chief human resources and strategy officer at the Society for Human Resources Management, a leading organization for employee managers, in Alexandria, Virginia, since February 2012.
Pon has stated that compensation and benefits are not as important to employee morale as positive relationships with supervisors and recognition of an employee's contributions.
Pon's wife, Dr. Gillian Pon, is a longtime employee of AOL Inc. They have two children, Cordelia and Charlotte.
-Matt Bewig
To Learn More:
Who Does the World's Largest HR Org Hire When it Needs a New HR Chief? (By John Hollon, TLNT)
Interview: Dr. Jeff Pon, Chief Human Resources Officer at #SHRM (by Sharlyn Lauby, HRBartender)
The Business of Government Hour: Interview with Jeff Pon (IBM Center for The Business of Government)