Director of the Office of National Drug Control Policy: Who Is Tom Marino?
Tuesday, September 19, 2017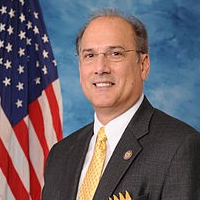 Tom Marino
Thomas Anthony Marino, a four-term congressman from Central Pennsylvania, was nominated September 1, 2017, to be director of the Office of National Drug Control Policy, commonly known as the "drug czar." The Office of National Drug Control Policy, created in 1988, runs anti-drug programs for the executive branch. Marino was first mentioned as the probable nominee in April, but on May 3 he announced his withdrawal from consideration citing the health of his mother.
Marino was born August 13, 1952, in Williamsport, Pennsylvania, to Vivian and Joseph Marino. His working life began in a bakery, but he went back to school, earning an A.A. degree from Williamsport Area Community College in 1983 and a B.A. in political science and secondary education from Lycoming College in 1985. He continued his schooling and earned a J.D. from Dickinson School of Law in 1988.
Marino started in private practice, but by 1992 was the part-time Lycoming County prosecutor. In 1996, he was named district attorney for the county. In this position, he was responsible for cracking down on drug dealers…but was accused of making an exception for a friend, Jay Kilheeney. In 1992, Kilheeney had been convicted of distributing cocaine. Six years later, Marino reportedly went "judge shopping." After the judge in charge of the case, Kenneth D. Brown, refused a request to expunge Kilheeney's record, Marino handed an expungement request to a different judge, Dudley N. Anderson. Anderson approved the expungement, but when he subsequently learned of Brown's previous refusal, Anderson withdrew his approval.
In 2002, Marino was tapped by President George W. Bush to be U.S. attorney for the Middle District of Pennsylvania. Perhaps his most prominent case came early in his tenure. Marino led the prosecution of executives of Rite-Aid Drugs for criminal fraud in connection with an accounting scheme that was said to have resulted in the largest restatement of corporate earnings to that point. The former president of the company, Martin Grass, eventually pleaded guilty to conspiring to inflate income by $1.6 billion at the drugstore chain and conspiring to obstruct justice and agreed to an eight-year prison term, a $500,000 fine and forfeiture of $3 million in assets.
In 2007, Marino was caught up in the Bush Administration's attempt to fire U.S. Attorneys for political reasons. Marino was originally on a list to be fired, and then was removed along with other U.S. Attorneys from battleground states.
Nonetheless, Marino wasn't in his job much longer. Later that year, he had to recuse himself from an organized crime investigation because he'd signed a referral letter for Louis DeNaples, who had ties to the Bufalino crime family, to own a casino. Shortly after the recusal, in September 2007, Marino resigned, while under investigation by the Justice Department, and went to work for DeNaples.
Marino considered running for Congress in 2008, but backed out. He changed his mind in 2010. Despite local newspapers calling attention to his questionable past, in particular the DeNaples case, Marino defeated incumbent Democrat Chris Carney 55%-45% in the Tea Party wave. He has been reelected three times. Since coming to Congress, Marino has been consistently conservative, arguing for the impeachment of President Barack Obama and voting (unsuccessfully) to shut down the government in 2015.
He sponsored a law, which passed in 2016, at the behest of pharmaceutical interests that made it harder to stop sales of addictive drugs by manufacturers and pharmacies. The legislation made the Drug Enforcement Administration show an "immediate" rather than an "imminent" threat to the public to stop sales. In the words of Philip Smith of AlterNet, "Marino will be the sort of drug czar who is tough on Colombian peasant farmers, but not so tough on major US pharmaceutical opioid manufacturers."
Marino was an early supporter of Donald Trump's presidential bid, backing him in February 2016.
Marino and his wife, Edie, have two adopted children, Chloe and Victor..
-Steve Straehley, David Wallechinsky
To Learn More:
Murky Past Comes Haunting America's "Drug Czar" Nominee (HookedSober.com)
Trump to Tap Rep. Tom Marino as "Drug Czar" (by Cristiano Lima, Politico)
Source: Marino Resigned While Under Review (by Matt Birkbeck, Morning Call)
Investigation: The DEA Slowed Enforcement While the Opioid Epidemic Grew Out of Control (by Lenny Bernstein and Scott Higham, Washington Post)
Guide to the New Congress (CQ Roll Call) (pdf)
Long Rap Sheet for "Friend" Helped by Marino (by Michael R. Sisak, Wilkes-Barre Citizen's Voice)