Director of the National Security Agency: Who Is Paul Nakasone?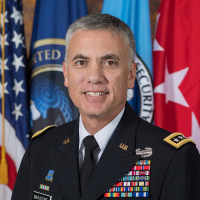 Paul Nakasone
Paul Miki Nakasone, who has served in the Army for more than 30 years, was confirmed April 24, 2018, to be the head of the National Security Agency (NSA). A promotion to four-star general comes with the job. The NSA is responsible for gathering signals intelligence and decoding and coding information. It is the world's most comprehensive and intrusive spy agency. It stores and analyses the information it collects at the Intelligence Community Comprehensive National Cybersecurity Initiative Data Center in Utah.
This is a partial list of the information the NSA collects about Americans and others, according to the agency's own web site:
internet searches
websites visited
emails sent and received
social media activity (Facebook, Twitter, etc)
blogging activity including posts read, written, and commented on
videos watched and/or uploaded online
photos viewed and/or uploaded online
mobile phone GPS-location data
mobile phone apps downloaded
phone call records
text messages sent and received
Skype video calls
online purchases and auction transactions
credit card/ debit card transactions
financial information
legal documents
travel documents
health records
cable television shows watched and recorded
commuter toll records
electronic bus and subway passes / Smartpasses
facial recognition data from surveillance cameras
educational records
arrest records
driver license information
Nakasone was born November 19, 1963, in St. Paul, Minnesota, son of Edwin and Mary Ann (Costello) Nakasone. Edwin Nakasone served in the Army as well, joining after graduating from high school in Hawaii during World War II and eventually reaching the rank of colonel.
Paul Nakasone grew up in White Bear Lake, Minnesota, where the elder Nakasones were teachers. He graduated from White Bear Lake High in 1982 and went to St. John's University in Collegeville, Minnesota, where he followed in his father's footsteps by joining ROTC. Nakasone graduated in 1986 with a bachelor's degree in economics and a commission in the Army. He subsequently earned master's degrees from the University of Southern California (1989); the National Defense Intelligence College (1991); and the Army War College (2007).
Nakasone rose in the Army, serving as a company commander in South Korea; working at the Pentagon at the time of the September 11, 2001, attacks; and from 2002 to 2004, commanding a military intelligence battalion at Fort Gordon, Georgia. He also served twice on the staff of the Joint Chiefs.
Beginning in 2007, Nakasone was in charge of the Fort Meade (Maryland) Operations Center, where he deployed NSA personnel to Iraq and Afghanistan. During that time, he was also among a small group of officers to conceive the first cyber warfare command in the U.S. military, and served as executive assistant to the commander at the U.S. Cyber Command.
Nakasone subsequently did a stint in Afghanistan as the deputy chief of staff for intelligence for the International Security Assistance Force Joint Command. He returned to the United States in April 2013 as director of the Army Cyber Operations Integration Center at Second Army/U.S. Army Cyber Command at Fort Belvoir, Virginia and commander of the Cyber National Mission Force in the U.S. Cyber Command. In 2016, he was named to lead the Army's Cyber Command as a lieutenant general.
During hearing for his NSA confirmation, Nakasone said he would not hide spying programs from legislators. "I would consult with this committee and have that discussion, but at the end of the day I would say I would follow the law and I would ensure, if confirmed, that the agency follows the law," he told the Senate Intelligence Committee.
The job of NSA chief comes with leadership of the U.S. Cyber Command. Nakasone said that within 90 days of his confirmation, he would decide whether the Cyber Command can stand by itself with its own leader.
Nakasone and his wife, Susan, have four children: Sarah, David, Joseph and Daniel.
-Steve Straehley
To Learn More:
Senate Confirms Paul Nakasone to Lead the NSA, U.S. Cyber Command (by Ellen Nakashima, Washington Post)
Incoming NSA Chief Has a Reputation for Winning "All the Important Fights." Russia Will Be His Biggest Test Yet. (by Ellen Nakashima, Washington Post)
NSA Director Nominee Promises Not to Hide Spying Programs From Congress (by Erin Kelly, USA Today)