Director of the Missile Defense Agency: Who Is Samuel Greaves?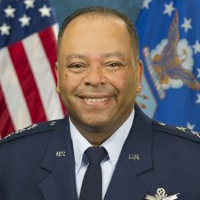 Samuel Greaves
Air Force Lt. Gen. Samuel A. Greaves, who has spent his entire career working on space projects, took over as director of the Missile Defense Agency on June 16, 2017. The agency works on research, development, and testing of missile programs to defend the United States from attack. It has more than 8,000 employees and an annual budget of almost $8 billion. Greaves replaced James Syring, who had held the post for more than four years.
Greaves is from New York City. He attended Cornell University, earning a B.S. in electrical engineering in 1982 and was commissioned a second lieutenant in the Air Force after participating in Reserve Officer Training Corps (ROTC}. Greaves also earned an M.S. in computer science from West Coast University in 1984 and an M.S. in strategic studies from the Air War College in 2001.
Greaves' first assignment was to work on the military's Space Shuttle that was to be launched from Vandenberg Air Force Base in California. Subsequent duty assignments included Kennedy Space Center, White Sands Missile Range, New Mexico, and Los Angeles Air Force Base, basically an office park where much of the research, development and acquisition of military space and missile systems is done. By 2007, he was mission director for Space Test Program-1 (STP-1) overseeing launches of the Atlas V rocket.
On June 19, 2008, Greaves was promoted from commander of the Launch and Range Systems Wing to commander of the Military Satellite Communications Wing. He was named vice commander of the Space and Missile Systems Center at Los Angeles Air Force Base in 2009, by which time he was a brigadier general. In January 2011, he became director of strategic plans, programs and analyses at Air Force Space Command at Peterson Air Force Base in Colorado. In June 2012, he was promoted to major general and named deputy director of the Missile Defense Agency, stationed at Redstone Arsenal in Alabama.
Greaves returned to Los Angeles AFB in June 2014 as commander of the Space and Missile Systems Center. While there, he worked to find alternatives to the Russian rocket engine that powers the Atlas V rocket. Contracts were eventually awarded to Aerojet Rocketdyne and the United Launch Alliance. Greaves also was there in April 2016 when SpaceX broke the Boeing-Lockheed Martin monopoly for the development of national security payload launches. Greaves was still in command at Los Angeles AFB when he was appointed to lead the Missile Defense Agency.
Greaves and his wife, Pat, have two children: Stephanie and Christopher.
-Steve Straehley
To Learn More:
U.S. Air Force's Greaves Nominated to Lead Missile Defense Agency (by Mike Gruss, SpaceNews)