Director of the Centers for Disease Control and Prevention: Who Is Robert Redfield Jr.?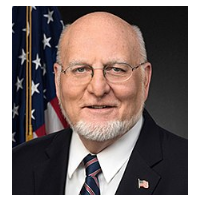 Robert Redfield Jr.
Donald Trump's first director of the Centers for Disease Control and Prevention (CDC), Brenda Fitzgerald, had to quit when it was discovered she'd invested in tobacco stocks after assuming the job. Robert R. Redfield Jr., Trump's choice for a replacement announced March 21, 2018, and sworn in five days later, also brings controversy to the position.
Redfield comes from a medical family; both his parents worked at the National Institutes of Health. His father died at age 32 and Redfield and his two siblings were raised by their mother. He earned a B.A. from Georgetown in 1973 and his medical degree from Georgetown in 1977. Redfield went into the Army, completing his internship and residency at Walter Reed Army Medical Center.
While in the Army, Redfield became known as one of the first to research the AIDS virus and to call attention, in 1985, to its transmission during heterosexual sex. In the mid-1980s, Redfield championed a policy under which service members were tested for HIV. Those who tested positive were segregated from other service members and treated like prisoners, with some dishonorably discharged. Redfield defended the practice, saying at the time: "The reason we have done what we have done, is that we think it's good medicine — and it's medicine that might work in the civilian sector, as well."
In 1990, Redfield wrote an introduction to the book Christians in the Age of AIDS in which he urged readers to "reject false prophets who preach the quick-fix strategies of condoms and free needles."
Redfield became involved with MicroGeneSys, a company working on an AIDS vaccine, in the 1990s. He conducted tests on the vaccine and overstated its promise. A later Army investigation found "sloppy or, possibly, deceptive" data analysis, but cleared Redfield of wrongdoing. However, he was transferred from research to a clinical setting. Redfield left the Army in 1995 as a lieutenant colonel.
Redfield was also connected to Americans for Sound AIDS/HIV Policy, an evangelical organization that advocates for abstinence-only measures to combat AIDS. The organization is now known as the Children's AIDS Fund, and Redfield is on its board of directors.
Since leaving the Army, Redfield has been on the faculty of the University of Maryland-Baltimore School of Medicine and is co-founder and associate director of the Institute for Human Virology. The institute helps treat more than 6,000 people in the Baltimore area with HIV and more than one million infected in Africa and the Caribbean. The institute also studies other diseases, including cancer.
Some who remember Redfield's controversial past were against his appointment. Sen. Patty Murray (D-Washington), ranking member of the Health, Education, Labor, and Pensions Committee, expressed her concerns to the White House about Redfield's appointment over his previous support of the military HIV screening and subsequent treatment of those found to have the virus, and that he has "taken no action to distance himself from those positions."
Peter Lurie, director of the Center for Science in the Public Interest was also against Redfield's appointment. "What one wants in a director of the Centers for Disease Control and Prevention is a scientist of impeccable scientific integrity," Lurie said in a release. "What one would get in Robert Redfield is a sloppy scientist with a long history of scientific misconduct and an extreme religious agenda. We urge the administration not to appoint Dr. Redfield."
However, Redfield has his supporters, even among Democrats and AIDS activists. Former Maryland Lieutenant Governor Kathleen Kennedy Townsend (D) backed Redfield. "He has a wonderful bedside manner and is loving and devoted to his patients." Townsend served on the board of the Institute for Human Virology.
Gregg Gonsalves, an AIDS activist and assistant professor at the Yale School of Public Health, took a wait-and-see attitude, according to The New York Times. "We don't have to be defined by our pasts, but Dr. Redfield has to clarify where he stands now on key issues and place himself firmly in the mainstream of evidence-based public health," Gonsalves said.
Three months before Redfield took charge of CDC, its employees had been told to avoid such phrases as "evidence-based" and "science-based." However, at a staff meeting after his swearing-in, Redfield made it clear that he considers CDC "science-based and data-driven, and that's why CDC has the credibility around the world that it has." He is a strong supporter of vaccines and considers the opioid epidemic "the public health crisis of our time." At the meeting, he said that "probably the most important thing I did in my life" was when he was an Army doctor in the 1980s and convinced military leadership to vaccinate every member of the Armed Forces against hepatitis B.
Redfield's wife, Joy, is a nurse whom he met while delivering a baby. Two of their five children are also physicians. They also have nine grandchildren.
-Steve Straehley
To Learn More:
AIDS Researcher, a Longtime Government Adviser, Is Named to Lead the CDC (by Sheila Kaplan, New York Times)
Potential CDC Director Has Plenty of Critics and Fans (by Ariel Hart, Atlanta Journal-Constitution)
Army's Top AIDS Researcher Transferred Amid Controversy (by Lyn Bixby, Hartford Courant)