Director of the American Institute in Taiwan: Who is Kin Moy?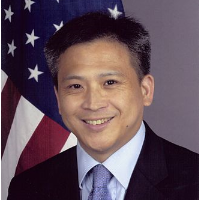 Kin Moy
Kin W. Moy was arrived in Taiwan to serve as the director of the American Institute in Taiwan (AIT) on June 8, 2015, becoming the first Chinese-American to hold that post since the office was established in 1979. The AIT is a private, nonprofit corporation that receives federal money and serves as a de facto embassy. Moy has worked in the U.S. Foreign Service for more than two decades, with special focus on the Asia-Pacific region.
Moy was born Méi Jiànhuá in Hong Kong in 1966, to parents from Taishan, Guangdong. He is a third-generation Chinese-American whose grandfather, born in Taishan, moved to Chicago during the early 20th century, then returned to China. Shortly after his birth, Moy moved with his parents to New York, then on to Minnesota, where he grew up. He attended the University of Minnesota's College of Liberal Arts—with a double major in political science and journalism, and a minor in Chinese—and graduated with a B.A. degree in 1988. That September he enrolled in Columbia University's School of International and Public Affairs, earning a Master of International Affairs degree on May 16, 1990.
Moy began working in the U.S. Department of State in 1992. He has served as special assistant in the office of Secretary of State Madeleine Albright, desk officer in the Office of Chinese and Mongolian Affairs, deputy director of the Office of Maritime Southeast Asia, and director of the executive secretariat staff in the office of Secretary of State Condoleezza Rice.
Abroad, Moy has held posts in the U.S. embassy in Beijing, China, and in the U.S. embassy in Seoul and the U.S. consulate in Busan, South Korea. He was made deputy executive secretary in the office of Secretary of State Hillary Clinton, and in July 2011 was named deputy assistant secretary of state in the Bureau of East Asian and Pacific Affairs, giving him diplomatic responsibility for China, Taiwan and Mongolia affairs. Moy held that post until his 2015 appointment to the directorship of the American Institute in Taiwan. He was a key proponent of President Barack Obama's "pivot to Asia" policy and was involved in Taiwan's bid to join the Trans-Pacific Partnership (TPP) trade agreement championed by Obama. Donald Trump withdrew the United States from the long-gestating TPP within days of taking office as president in 2017.
In 2016, Moy expressed optimism about the future relationship between Taiwan and the United States. "U.S. policy toward Taiwan has not changed," he told CommonWealth Magazine. "The relationship between [Taiwan] … and the president of the United States is very solid... The future of U.S.-Taiwan relations will continue to develop forward, because … Taiwan and the United States enjoy common values, including democracy, freedom of speech and freedom of the press."
Moy is married to Kathy Chen, a former reporter and editor for The Wall Street Journal who—working out of the newspaper's Washington, China and Hong Kong bureaus—was a member of a team of journalists who won the Pulitzer Prize for a series of articles on the U.S. military. Born Chen Ling Ling in Taipei, Taiwan, she grew up in the U.S and, during the 1980s, was educated in Taiwan and became an editor for The China Post. She served as head of China programs for the non-profit group Campaign for Tobacco-Free Kids, and has been writing fiction, including a young adult novel. Chen and her husband have conducted readings of American children's books at Taiwanese book stores for local children to encourage reading.
Moy and Chen have four children of their own—Andrew, Claire, Olivia and Amanda—and a Great Dane who has been a member of the family since 2011. They moved to Taiwan from their home in Chevy Chase, Maryland, after Moy's appointment to AIT. Moy speaks fluent Mandarin.
-Danny Biederman
To Learn More:
Meet the AIT Director Kin W. Moy (video—Bureau of International Information Programs, U.S. Department of State)
Interview with Kathy Chen (video—Taiwan Today)
The New Director of AIT Mei Jianhua: The United States is Taiwan's Best Friend (by Liuguang Ying, CommonWealth Magazine)
Mei Jianhua AIT Change the Relationship between the United States and Taiwan and the Next Step (by Liuguang Ying, CommonWealth Magazine)