Department of Transportation: Who Is Elaine Chao?
Wednesday, January 11, 2017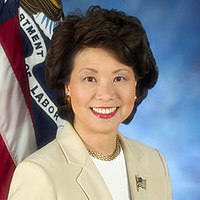 Elaine Chao
In Elaine Chao, nominated November 29, 2016, to be Secretary of Transportation, President-elect Donald Trump has at least one Cabinet hopeful who has relevant experience for the position. The majority of the U.S. Senate clearly recognized that, overwhelmingly confirming her appointment with a 93-6 vote on January 31, 2017.
Chao, who was born March 26, 1953, in Taipei, Taiwan, is the oldest of six daughters of refugees from mainland China. Not speaking any English, she came with her family to the United States in 1961, following her father who had preceded them. The family settled in New York and, in 1964, Chao's father, James S.C. Chao, founded Foremost Shipping (now Foremost Group), a maritime shipping company.
Elaine Chao attended Mount Holyoke College, where she played field hockey, and earned a B.A. in economics in 1975. While there, she became a U.S. citizen. Chao then went to Harvard, working for Gulf Oil, while earning an MBA in 1979.
Chao started her career in the banking industry. She first joined Citibank as a senior lending officer in their European banking division. She took a year off to serve as a White House fellow in the first term of Ronald Reagan's administration, working on transportation issues in the Office of Policy Development. When her fellowship ended in 1984, Chao went to Bank of America as a vice president for syndications in the bank's capital markets group.
Chao returned to government in 1986 as deputy administrator of the Maritime Administration, part of the Department of Transportation. Two years later, she was appointed chairman of the Federal Maritime Commission. As might be expected of a daughter of a shipping company owner, Chao got good marks from members of the industry.
After George H.W. Bush took over the White House, Chao was named as deputy secretary of transportation. She urged less regulation in such issues as airline mergers.
By 1991, Chao wanted to be in control of her own agency again and was looking to improve her foreign policy credentials in the event she decided to run for a Senate seat from California, where she was based with Bank of America. She got her wish when she was made director of the Peace Corps. Under Chao, the agency began sending large numbers of volunteers to the former Soviet satellite states.
Chao left the Bush administration in 1992 to become CEO and president of United Way of America. She took over the charity in the wake of the fraud allegations against a previous president, William Aramony.
While at United Way, Chao also saw a change in her marital status; in 1993 she married Sen. Mitch McConnell (R-Kentucky), who had recently been divorced from his first wife. It wasn't the first link between McConnell and Chao, however. Chao's father had donated to McConnell's Senate campaigns since the 1980s.
When Chao left United Way in 1996, she said it was because she had succeeded in cleaning up the organization and that the departure was her idea. Unusually for a charity, however, Chao was given 18 months' salary as severance, the same amount she would have been due contractually had she been dismissed by the United Way board. After leaving United Way, Chao went to work for the conservative Heritage Foundation.
When George W. Bush was elected, he appointed Chao to be Secretary of Labor, the first Asian-American female Cabinet member. Chao wasn't seen has a friend of the workers during her tenure.
Toward the end of the Bush administration, the Government Accountability Office (GAO) reported to Congress that Chao's Wage and Hour Division (WHD) had consistently failed to follow up on reports of wage theft, sometimes advising workers to file claims on their own. "In one example, a delivery driver who was working 55 hours per week informed WHD that he was not receiving overtime pay as required," the GAO testified. "WHD waited more than 17 months before assigning an investigator to the complaint. The investigator subsequently dropped the case without performing any investigative actions." Subsequent investigations by the GAO showed that WHD staffers often failed even to pick up the phone when called by those seeking help.
Chao was the only Bush cabinet member to serve out the entire eight years. Her anti-worker stances were not appreciated by all the department's employees, however. Upon her departure, some members of the American Federation of Government Employees held a good-riddance party at a Washington restaurant, and enjoyed a cake that said "Ciao to Chao."
Chao returned to the Heritage Foundation and helped McConnell in his re-election campaigns. She worked to counter charges by McConnell's 2014 Democratic opponent, Alison Lundergan Grimes, that the senator was anti-woman.
Chao also serves on several corporate boards, including Wells Fargo Bank and Rupert Murdoch's News Corp. Chao made $1.2 million as a director at Wells Fargo, which holds more than $400 million in Trump mortgages.
As transportation secretary, Chao will be in position to regulate her father's business. The elder Chao has given millions of dollars to his daughter and to McConnell. Forbes magazine put her net worth at $24 million.
The McConnell-Chao Archives are housed at the University of Louisville.
If Chao is confirmed, she'll be the second wife of a Senate Republican Leader to serve as transportation secretary. The first was Elizabeth Dole, wife of former Sen. Bob Dole of Kansas.
-Steve Straehley
To Learn More:
Family's Shipping Company Could Pose Problems for Trump's Transportation Pick (by Josie Albertson-Grove and Masako Melissa Hirsch, ProPublica)
Elaine Chao, Ruined Department of Labor, Picked to Ensure Safety of Nation's Planes, Trains, and Automobiles (by Spencer Woodman, The Nation)
Girding for a Fight, McConnell Enlists His Wife (by Jason Horowitz, New York Times)
Elaine Chao Leaves United Way (by Holly Hall, Chronicle of Philanthropy)
Staffers' Good-Riddance Party for Chao a Labor of Love (by Joe Davidson, Washington Post)