Defense Dept. Resists Call for Oversight Unit to Rein in Cost Overruns on Major Weapons Systems
Saturday, November 08, 2014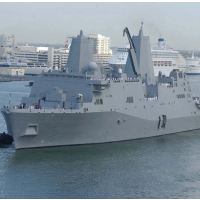 USS San Antonio (photo: Wikipedia)
Despite numerous examples of runaway costs on expensive weapons programs, the Defense Department is resisting calls to make changes to its process for ensuring quality control.
The Pentagon's inspector general (IG) recently reviewed the work of the Office of the Defense Undersecretary for Acquisition, Technology and Logistics and concluded in a report that it hadn't "established an overarching quality management policy to ensure the consistent application of quality management system requirements across DoD components."
In other words, do a better job of monitoring the development of new weapons systems before budget overruns result in soaring costs.
Not that there haven't been a lot of examples of this problem:
· The Expeditionary Fighting Vehicle fell four years behind schedule and accumulated an overrun of $750 million.
· The Advanced Threat Infrared Counter Measure/Common Missile Warning System got five years off-track at a cost of $117 million.
· The F22A Raptor Advanced Tactical Fighter exceeded its budget by $400 million.
The USS San Antonio, an amphibious transport dock ship, took three years longer than planned to build and consumed an extra $846 million along the way.
The IG recommended the Pentagon create a central quality management oversight office to help reduce delays and cost overruns.
The response last month from the Defense Department was they don't need another layer of bureaucracy. "While we agree there are benefits to central leadership, it already exists," Katrina McFarland, director of Defense Acquisition Resources and Analysis, said according to Government Executive. These quality checks "are in many cases are working poorly right now for a very simple reason: a shortage of trained and qualified acquisition professionals in the quality field."
The IG requested another response, this time one that addresses its concerns, by December 5.
-Noel Brinkerhoff
To Learn More:
Pentagon's Buying Managers Resist IG's Call for Central Oversight Office (by Charles S. Clark, Government Executive)
Evaluation of Government Quality Assurance Oversight for DoD Acquisition Programs (Inspector General, U.S. Department of Defense) (pdf)
Unnecessary Defense Acquisitions are a Costly Mistake for the Pentagon, Taxpayers (by David Williams, Townhall.com)
Majority of Pentagon Weapons Contracts Go Over Cost Estimates (by Noel Brinkerhoff, AllGov)
Stunning Cost Overruns in Weapons Development Programs (by Noel Brinkerhoff, AllGov)