Death Sentences Decline to New Low
Saturday, December 17, 2011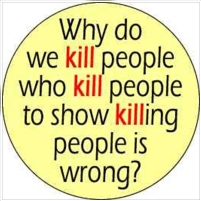 This year has witnessed the fewest number of prisoners sentenced to death since the U.S. reinstated the death penalty in 1976, while support for the death penalty fell to a 39-year low.
To date, only 78 death sentences have been imposed on prisoners in 2011, marking the first time that less than 100 death-row convictions were carried out in a single year during the modern era of capital punishment, according to the Death Penalty Information Center.
The 2011 total is considerably less than what it was 15 years ago, when 315 inmates were sentenced to death in 1996.
Texas, which had 48 new death sentences in 1999, had only 8 this year.
In 2011, only 43 executions were carried out, a significant drop since 1999, when there 98.
The center noted in its
report
that popular support for the death penalty has been declining since the mid-1990s. A Gallup Poll conducted this year showed 61% favor capital punishment, compared to 1994 when 80% felt the same way. The 2011 figure is the lowest since 1972.
-Noel Brinkerhoff
Support for Death Penalty Hits 39-Year Low (by Noel Brinkerhoff, AllGov)