Congress Agrees to Protect 1 Million Acres in First Significant Land Conservation Legislation in 5 Years
Tuesday, December 16, 2014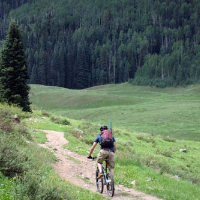 Hermosa Creek Wilderness (photo: Jeff Widen, Wilderness Society)
For the first time since 2009, Congress has moved to protect large swaths of undeveloped land throughout the Western United States.
By folding several bills into a defense authorization plan, environmentalists were able to push through protection for national parks, wilderness areas and untamed rivers.
More than 1 million acres of public lands will be set aside, creating the Columbine-Hondo Wilderness in New Mexico, the Pine Forest Range and Wovoka Wildernesses in Nevada, and the Hermosa Creek Wilderness in Colorado. More than 208,000 acres will be protected in Montana as the Rocky Mountain Front Conservation Management Area, and 70,650 acres in Colorado as the Hermosa Creek Special Management Area. The Bob Marshall Wilderness in Montana will also be expanded, and more than 100 miles of rivers will be added to the National Wild and Scenic Rivers System.
However, part of the price for the conservation package was the approval of measures that would expedite oil and gas and grazing permits, promote a copper mine in Arizona and convey federal timberlands to an Alaska Native-owned corporation in the Tongass National Forest, according to E&E Daily.
-Noel Brinkerhoff
To Learn More:
Congress Protects New National Parks And Wilderness Areas For The First Time In 5 Years (by Makari Krause, ClimateProgress)
Major Package of Wilderness, Parks and Energy Bills Hitches Ride on Defense Authorization (by Phil Taylor, Manuel Quiñones and Annie Snider, E&E Daily)
Majority of Western Voters Oppose State Takeover of National Parks and Forests (by Noel Brinkerhoff, AllGov)