Majority of Western Voters Oppose State Takeover of National Parks and Forests
Saturday, September 27, 2014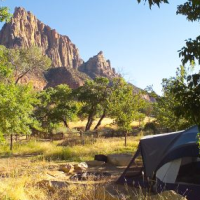 Zion National Park, Utah (photo: National Park Service)
Most Americans living in the West don't support a conservative idea that calls for transferring national parks and other federal lands to state control.
Bipartisan polling found 59% of respondents disagree with the idea of states taking over public lands, fearing such a move would cause them to pay higher taxes and lose access to the lands themselves if they're sold off to private interests. Several Western state legislatures have considered proposals that would demand that federal public lands such as national parks and forests and property under control of the Bureau of Land Management be given to the states.
The survey was conducted by the Republican-leaning firm of Public Opinion Strategies and the Democratic-leaning firm of Fairbank, Maslin, Maullin, Metz & Associates. They polled 1,600 voters in Colorado, Idaho, Montana, New Mexico, Nevada, Oregon, Utah, and Wyoming. Only Utah had a majority of respondents (52%) favor a transfer, while those polled in Wyoming were split down the middle.
"These lands belong to all of us, and it is imperative that we keep it that way," Senator Martin Heinrich (D-New Mexico) told the Center for American Progress. "Efforts to seize or sell off millions of acres of federal public lands throughout the West would bring a proliferation of closed gates and no trespassing signs in places that have been open and used for generations. These privatization schemes would devastate outdoor traditions like hunting and fishing that are among the pillars of Western culture and a thriving outdoor recreation economy."
-Noel Brinkerhoff
To Learn More:
New Poll: Westerners Oppose Right-Wing Efforts to Seize And Sell National Parks, Forests And Public Lands (by Claire Moser, ThinkProgress)
Western Voter Attitudes Toward Management of Public Lands (Public Opinion Strategies) (pdf)