Comptroller of the Currency: Who Is Joseph Otting?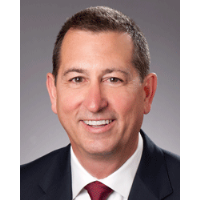 Joseph Otting
Joseph M. Otting, who was nominated June 6, 2017, to head the Office of Comptroller of the Currency (OCC), shares certain traits with others chosen for important government positions in the Donald Trump administration: he'll be regulating an industry in which he's recently worked and his resume has a loose connection with some facts. As part of the Treasury Department, OCC supervises and regulates national banks, such as JP Morgan Chase, Bank of America, Wells Fargo and Citigroup, as well as the federal branches and agencies of foreign banks.
The son of James and Grace Otting, Otting grew up in Maquoketa, Iowa. His father owned a car dealership and his mother was a schoolteacher for 35 years. Joseph Otting attended the University of Northern Iowa, where he worked in a campus pool hall on his way to earning a B.A. in management in 1981. He did NOT, as he has misled people to believe since at least 2001, earn a degree from Dartmouth College.
Otting's resume and publicity materials, including the official White House announcement of his nomination, say he "is a graduate of the School of Credit and Financial Management at Dartmouth College." In fact, in 1992, Otting earned a certificate for a four-week course from the School of Credit and Financial Management, which happened to rent space from Dartmouth, but had no other connection with the Ivy League institution.
Otting worked early in his career for Bank of America in branch management, private banking and commercial lending. He moved over to Union Bank in 1986, where he worked in jobs such as deputy regional vice president in Beverly Hills and senior vice president in San Diego before being promoted to executive vice president and group head of commercial banking responsible for the California corporate banking and middle market group in 2000.
In December 2001, Otting jumped to U.S. Bank, starting as president of its Portland, Oregon, division. In 2003, he moved to Minneapolis as head of the eastern commercial banking group, and in March 2005, he was promoted to vice chairman, heading U.S. Bank's entire commercial banking group, and becoming a member of the bank's managing committee. In April 2008, he relocated to Los Angeles to become the senior officer for U.S. Bank's West Coast operations, while retaining his other responsibilities, such as overseeing nationwide lending to businesses with $5 million to $250 million in sales.
In October 2010, Otting was named president, CEO and a board member of One West Bank, which had been formed by Steve Mnuchin, now Trump's Treasury Secretary, out of the wreckage of IndyMac Bank. One West was engaged in robo-signing—having mortgage documents signed automatically without being reviewed—and it was found in 2011 by the Office of Thrift Supervision that it failed to follow proper procedures when foreclosing on homeowners.
"The president's choice for watchdog of America's largest banks is someone who signed a consent order—over shady foreclosure practices—with the very agency he's been selected to run. If Mr. Otting didn't deal fairly with the customers at his own bank, it's difficult to see why he's the best choice to look out for the interests of customers at more than 1,400 banks and thrifts across the country." Ohio Sen. Sherrod Brown, the ranking Democrat on the Senate Banking Committee, said in a press release. One West's Financial Freedom subsidiary has agreed to pay $89 million for defrauding the Federal Housing Administration in connection with reverse mortgages.
When financial giant CIT made a bid to buy One West in 2015, Otting began an unusual email campaign to solicit support for the merger to go through without a hearing despite concerns that the two companies had not done enough to support housing for minorities and those with low income. The merger eventually went through, but CIT fired Otting in December 2015. But Otting did come away with a severance payment of more than $12 million.
Otting moved to the Las Vegas area, where he owns the private Southern Highlands Golf Club. Like Trump, Otting's not above having his family promote his businesses. Otting's wife Bonnie posted a "review" on the club's Facebook page, exclaiming "Love this golf course. I think it's the best in Las Vegas."
-Steve Straehley, David Wallechinsky
To Learn More:
Statement at Nomination Hearing before Senate Banking Committee
Former CEO of OneWest Bank Is Trump's Pick for Key Financial Regulatory Post (by Jim Puzzanghera and James Rufus Koren, Los Angeles Times)
Trump Selects Ex-Banker to Oversee Wall Street (by John Bowden, The Hill)