Secretary of Treasury: Who Is Steven Mnuchin?
Wednesday, January 18, 2017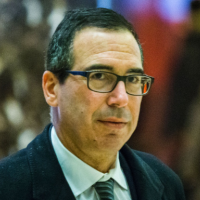 Steven Mnuchin (photo: Getty)
During the presidential campaign Donald Trump accused Wall Street investment bank Goldman Sachs of being part of a "global power structure" that "robbed our working class," but since his election he has appointed five former Goldman alums to his cabinet. Most notable is Trump's pick for Treasury Secretary: former Goldman partner Steven R. Mnuchin ("M'noo-shin"), whose aggressive foreclosure tactics against vulnerable homeowners during the Great Recession are already providing ammunition to his critics.
During Mnuchin's confirmation hearings, Democrats mounted strong opposition and twice boycotted the confirmation vote. Republicans responded by unilaterally sending the vote to the full Senate, where Mnuchin's 52-47 confirmation win enjoyed the participation of a lone defecting Democrat, Sen. Joe Manchin III of West Virginia.
Born December 21, 1962, in New York City to Elaine Terner Cooper and Robert E. Mnuchin, a Goldman Sachs partner on the firm's management committee, Steven Mnuchin grew up in the rarified world of ultra-wealthy New Yorkers. His grandfather, Leon Mnuchin, founded a yacht club in the Hamptons. Steven attended the exclusive Riverdale Country School and graduated from Yale University in 1985, where he was initiated into the secret society Skull and Bones, according to author Antony Sutton.
Steven Mnuchin's early career was not atypical for a Yale grad born with a silver spoon: Immediately after graduating in 1985 he got a job in the mortgage department at Goldman Sachs, where his father was a bigwig dating back 28 years, and where his older brother, Alan, had been given a job just a year before. Mnuchin was brought quickly to the top, becoming chief of the Mortgage Securities Department at age 32 and joining the firm's executive committee at age 37. When he left Goldman in 2002 at age 39, he walked away with an estimated $58.6 million: $46 million in stock and $12.6 million in cash.
After leaving Goldman in 2002, Mnuchin was briefly vice-chairman of hedge fund ESL Investments (owned by his Yale roommate Edward Lampert), but soon founded SFM Capital Management with financier George Soros. Mnuchin was also CEO of Dune Capital Management, a hedge fund he started in 2004 with two Goldman alums. Dune helped finance a series of Hollywood films, including Avatar and Gravity, between 2005 and 2013. Ironically, the firm also invested in at least two Donald Trump projects and wound up being sued in 2008 by Trump over a construction loan in Chicago.
In 2009—during the depths of the Great Recession—Mnuchin led an investment group that bought California-based home lender IndyMac from the FDIC for $1.55 billion. Taken over by the feds in 2008 because its poor decisions had rendered it insolvent, IndyMac's main "assets" were $23.5 billion in commercial loans, mortgages, and mortgage-backed securities. But the collapse of the real estate bubble had beaten down the inflated market value of the realty underlying those instruments, rendering them "toxic" and largely uncollectable.
Renamed OneWest Bank, the firm eventually became the biggest bank in Southern California. A big part of the reason, according to critics, were "shared loss" clauses that put most of the risk on the government, which wound up subsidizing Mnuchin and his partners with more than $1 billion. In 2015, Mnuchin sold OneWest to CIT Group for $3.4 billion and became a member of CIT Group's board. At the time, as Politico has reported, merger critics were opposed by several nonprofits that wrote letters praising Mnuchin and OneWest—nonprofits that had received thousands of dollars in donations from OneWest, and on some of whose boards Mnuchin himself sat.
A clearly impressed Trump cited the IndyMac deal as a strong influence on his choice of Mnuchin: "He purchased IndyMac Bank for $1.6 billion and ran it very professionally, selling it for $3.4 billion plus a return of capital. That's the kind of people I want in my administration representing our country."
Senator Elizabeth Warren, (D-Massachusetts), who will have a vote on Mnuchin's nomination, also mentioned his work at OneWest, though more critically: "Steve Mnuchin is the Forrest Gump of the financial crisis—he managed to participate in all the worst practices on Wall Street. He spent two decades at Goldman Sachs helping the bank peddle the same kind of mortgage products that blew up the economy and sucked down billions in taxpayer bailout money before he moved on to run a bank that was infamous for aggressively foreclosing on families."
Mnuchin foreclosed on at least 50,000 homes. In fact, in 2011, an investigation by the Office of Thrift Supervision (OTS) forced OneWest to agree to the issuance of a Consent Order to remedy numerous abusive practices that Mnuchin's bank was using to make money.
Specifically, OTS concluded that OneWest was (1) filing false affidavits and other legal documents, (2) initiating foreclosures without ensuring that the underlying mortgage documents were legally proper, (3) spending so little on administration that its oversight, internal controls, policies, and procedures for foreclosures were inadequate to prevent abuses.
Although attorneys with the California Department of Justice also "strongly recommended" in 2012 that California file its own civil case against OneWest for similar misconduct in California, then-state Attorney General Kamala Harris (now a U.S. Senator) declined to file the case. In February 2016, Mnuchin contributed $2,000 to Harris' senatorial campaign.
More recently, two nonprofits—the California Reinvestment Coalition and the Fair Housing Advocates of Northern California—filed a Complaint with the Department of Housing and Urban Development accusing OneWest of violating the Fair Housing Act by "redlining," an illegal practice of not doing business in minority neighborhoods in order to avoid making home loans to minorities.
Specific horror stories include the following:
- In 2009, a New York state judge cancelled $525,000 in mortgage debt demanded by OneWest, calling its foreclosure tactics "harsh, repugnant, shocking and repulsive."
-  That same year, OneWest changed the locks on the home of a Minneapolis woman during a snowstorm, even though the bank had assured her in writing that her "concern that at the end of the redemption period … you and your mother will be evicted from the property… will not take place."
- In 2014, OneWest foreclosed on a 90-year old woman over a 27-cent payment error.
In October 2014, Mnuchin became co-chairman of Relativity Media, a film production company based in Beverly Hills. Mnuchin quietly resigned from his position on May 29, 2015. Two months later, Relativity filed for bankruptcy. By that time, Mnuchin had transferred about $50 million out of Relativity's accounts to pay off a loan from…OneWest. This included $17.9 million less than two weeks before the bankruptcy filing.
As a candidate, Donald Trump railed against Hillary Clinton for speaking to Goldman Sachs conferences and against Ted Cruz for being married to a Goldman Sachs managing director. However, he did not hesitate, in April 2016, to bring on Mnuchin as his national finance director. As such, Mnuchin directed the campaign's fundraising efforts.
Steven Mnuchin, who has been married and divorced twice, is currently engaged to actress Louise Linton. Mnuchin has three children, two daughters and one son, by his second wife, Heather deForest Crosby. He is a Member of the Board of The Museum of Contemporary Art Los Angeles (MOCA), UCLA Health System Board, New York Presbyterian Hospital, the Los Angeles Police Foundation, and life trustee of New York Presbyterian Hospital.
-Matt Bewig
To Learn More:
The Worst of Wall Street: Meet Donald Trump's Finance Chairman (by Peter Dreier, The Nation)
Inside Steven Mnuchin's Hit-and-Miss Path From Hollywood to Treasury Secretary Pick (byKim Masters, Hollywood Reporter)
Relativity Co-Chairman Steven Mnuchin Quietly Exited Just Before Big Losses (by James Rainey, Variety)
Trump's Treasury Secretary Pick is a Lucky Man. Very Lucky. (by Jesse Eisinger, ProPublica)
Treasury Nominee Steve Mnuchin's Bank Accused of "Widespread Misconduct" in Leaked Memo (by David Dayen, The Intercept)
Trump's Treasury pick Steve Mnuchin oversaw 50,000 foreclosures against the vulnerable (by Esther Yu Hsi Lee, Think Progress)
Foreclosing on a 90-Year-Old Woman over 27 Cents and Other Heartwarming Tales from Steven Mnuchin's Days at OneWest (by Bess Levin, Vanity Fair)