Commandant of the Western Hemisphere Institute for Security Cooperation: Who Is Robert Alvaro?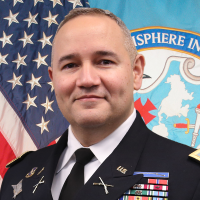 Robert Alvaro
Colonel Robert Francisco Alvaro took command of the Western Hemisphere Institute for Security Cooperation (WHINSEC) at Fort Benning, Georgia, on July 19, 2017, succeeding Col. Keith W. Anthony. Called the School of the Americas (SOA) from 1946 to 2001, WHINSEC is a US combat training school mainly for Latin American soldiers and police—90% of classes are taught in Spanish. The name change was prompted by a scandal when the Pentagon released SOA training manuals that taught torture, extortion, and execution. In fact, more than 80,000 Latin American military and police officers have received training at SOA/WHINSEC, including such human rights violators as Panama's Omar Torrijos and Manuel Noriega; Guatemala's Efraín Ríos Montt; and Chile's Manuel Contreras.
Born March 12, 1969, Robert Francisco Alvaro earned a B.A. in Psychology at the University of Puerto Rico in 1991 and an M.A. in Latin American Studies at the University of South Florida in 2004. He also completed courses in 2005 at the U.S. Army's Command and General Staff College and in 2008 at the Joint and Combined Warfighting School, which is part of Joint Forces Staff College at National Defense University.
Alvaro has spent his entire career in the U.S. Army, first in the infantry and later as a foreign area officer, rising to the rank of colonel. He has served as battalion logistical officer, company executive officer, and rifle platoon leader in the 10th Mountain Division at Fort Drum, New York; as plans officer in the Second Infantry Division in South Korea; and as division G3 readiness officer and company commander in the 82nd Airborne Division at Fort Bragg, North Carolina.
As a foreign area officer, Alvaro has served as chief of the Office of Security Cooperation-Nicaragua; deputy Army section chief of the Office of Security Cooperation-Iraq; country director at the Office of the Secretary of Defense for Western Hemisphere Affairs; political military planner; country desk officer at the United States Southern Command; and exchange instructor at the Argentine Army Mountain Operations School. He also served during Operation New Dawn (2010-2011) in Baghdad, Iraq.
From October 2014 to June 2017, Alvaro served as chief of strategic outreach and chief of strategic plans and communications at the William J. Perry Center for Hemispheric Defense Studies (CHDS). In 2015 CHDS was credibly accused in an internal Army report of shielding a teacher from Chile who belonged to a known state terrorist organization; clandestine involvement of Center officials in the 2009 Honduran coup; and gross mismanagement, corruption, homophobia, racism, and sexism. Alvaro was responsible for planning and executing strategic communications, advising on matters of defense policy, and aligning the Center's academic activities with Department of Defense objectives.
Robert Alvaro is married to Arlene (Monti) Alvaro, a registered nurse.
-Matt Bewig
To Learn More:
Official Biography (U.S. Army)
WHINSEC Welcomes Col. Robert F. Alvaro, Sixth Commandant (by Lee A. Rials, WHINSEC Public Affairs)
Colonel Rob Alvaro Presented with Defense Meritorious Service Medal (William J. Perry Center for Hemispheric Defense Studies)
How Did Two Military Officers Accused of Human Rights Abuses in South America End up Teaching at the Pentagon's National Defense University? (by Noel Brinkerhoff, AllGov)
Flagship Military University Hired Foreign Officers Linked to Human Rights Abuses in Latin America (by Julia Harte and R. Jeffrey Smith, Center for Public Integrity)