CIA Strategy: Collect All Data and Keep it Forever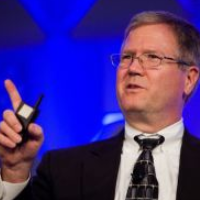 Ira "Gus" Hunt (photo: Albert Chau, GigaOM)
When it comes to collecting information, the Central Intelligence Agency (CIA) wants it all. Forever.
The CIA's chief technology officer, Ira "Gus" Hunt, told an audience at an industry gathering, the GigaOM Structure Data conference, on March 20 that the agency strives to gather every kind of communication that exists—text messages, tweets, emails, videos, etc.
"The problem of Big Data," Hunt said, "is the following: the database of useless information is 500 million gigabytes, the database of useful information is 5K. Our problem is, which 5K?"
"The value of any piece of information is only known when you can connect it with something else that arrives at a future point in time," Hunt said. "Since you can't connect dots you don't have, it drives us into a mode of fundamentally trying to collect everything and hang on to it forever, forever being in quotes of course."
Holding up his own CIA smartphone, he reminded the audience that "Even if you turn off your cell phone you can be tracked." And he summarized the CIA's mission thus, "The CIA has three business lines. We collect information about the plans and intentions of our adversaries. We do this thing called All-Source Analysis where we bring the information we collect together with any information we can get our hands on so that we can tell the president and the secretary of defense and policymakers, everybody else, what it all means. And the third thing we do—and we're the only agency authorized to do this by law, at the discretion of the president of the United States—is this thing called covert action."
Hunt, who joined the CIA in 1985, did acknowledge that keeping every bit of data forever might become impractical. Nonetheless, the CIA is working and spending towards compiling an enormous volume of information that people generate and devising methods to analyze it…to connect the dots. "We care about seven constructs for data analytics," he said: people, places, organizations, time, events, things and concepts.
Just prior to Hunt's speech, Federal Computer Week reported that the CIA plans to pay $600 million to Amazon for it to build a private cloud infrastructure so the agency can store all kinds of data.
-David Wallechinsky, Noel Brinkerhoff
To Learn More:
The CIA Bets All in the Cloud, an 'Intelligent' Move (by James Grundvig, Epoch Times)
CIA's Gus Hunt On Big Data: We 'Try To Collect Everything And Hang On To It Forever' (by Matt Sledge, Huffington Post)
Sources: Amazon and CIA Ink Cloud Deal (by Frank Konkel, Federal Computer Week)
Federal Appeals Panel Orders CIA to Reveal Info about Drones (by Matt Bewig, AllGov)