China Leads in Heavily Polluting Coal Plants, but U.S. not far Behind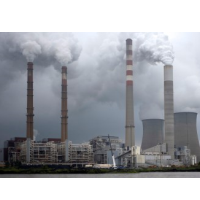 TVA's coal-fired Paradise Fossil Plant in Paradise, Kentucky (Photo: Luke Sharrett, Bloomberg via Getty Images)
Although China leads the world in the number of coal-fired power plants that pollute the most, the United States is not far behind, according to a new report.
As part of its Stranded Assets Program, Oxford University surveyed the number of sub-critical coal-fired power stations (SCPS) around the world. These plants emit 75% more pollutants than more technologically advanced ultra-supercritical type plants. However, the sub-critical plants are cheaper to build and thus they predominate in many areas.
The survey (pdf) found that 75% of China's coal-fired generating capacity of 669 gigawatts comes from SCPS. The United States, although it has less capacity at 336 gigawatts, also has 75% SCPS in its coal-fired portfolio. In fact, about three-quarters of the world's coal-fired generating capacity is of the higher-polluting variety.
These plants threaten the world's ability to mitigate the effects of global climate change. "To limit global emissions to a level consistent with a 2°C future, it is necessary to close a quarter or 290 gigawatts of subcritical generation worldwide by 2020," according to the report. "Sub-critical coal-fired power stations are the first thing we need to kill off if we want to tackle climate change," Ben Caldecott, the report's lead author, told The Guardian. This assessment is supported by calculations made by the International Energy Agency.
The report is intended as a tool for investors to know how companies might be affected by closure of SCPS and as such lists the top 100 companies with stakes in such plants. The United States has 10 companies—the most of any nation—among the top 25 in SCPS generation. They are AES, Southern, Duke Energy, NRG Energy, American Electric Power, Berkshire Hathaway Energy, Edison International, Ameren, the Tennessee Valley Authority and PPL Generation. These companies own a combined 109 SCPS. China comes next with nine companies, all state owned, among the top 25.
"It is obvious that many sub-critical coal plants will have to shut down if we are to get close to staying within our carbon budget," James Leaton, director of research at the Carbon Tracker Initiative, told The Guardian. "This will have a major effect on demand for coal going forward, as evidenced by Chinese demand for thermal coal peaking in 2014."
For now, coal-fired plants continue to proliferate, and the industry remains bullish about its future. "Coal use is set to grow by around 17% in the next 20 years [because] it is affordable, reliable and abundantly available," Benjamin Sporton, acting chief executive of the World Coal Association, told The Guardian.
-Steve Straehley
To Learn More:
U.S. and Chinese Companies Dominate List of Most-Polluting Coal Plants (by Damian Carrington, The Guardian)
Stranded Assets and Subcritical Coal (by Ben Caldecott, Gerald Dericks and James Mitchell, Oxford University) (pdf)