Chairman of the Woodrow Wilson International Center for Scholars: Who Is Fred Malek?
Tuesday, September 12, 2017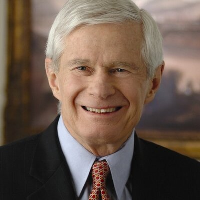 Fred Malek
Frederic Vincent Malek, a long-time Republican donor who, while working in the Nixon Administration, compiled a list of Jews in the Bureau of Labor Statistics (BLS), was appointed August 30, 2017, to be chairman of the board of the Woodrow Wilson International Center for Scholars. The Center is a think tank that's part of the Smithsonian Institution and according to its website, is dedicated to tackling global issues through independent research and open dialogue.
Malek was born December 22, 1936, in Berwyn, Illinois, son of a beer-truck driver. Malek grew up in Chicago and went on to attend the United States Military Academy, graduating in 1959. That year, Malek had a brush with the law in Peoria, Illinois, when police found him and four friends with the carcass of a dog roasting on a spit. Malek said he had nothing to do with the animal's death and he wasn't charged by police.
Early in his Army career, Malek served in Special Forces and in 1961 was in Vietnam in the early days of U.S. involvement in that conflict. He later served in Hawaii in Army finance and at that point decided to go into business.
After leaving the Army, Malek went to Harvard, earning an MBA in 1964. He joined McKinsey & Co. as a management consultant. With two friends there, Malek rounded up investors and in 1967 bought a hand-tool company the partners renamed Triangle Corp.
Malek left Triangle in 1969 to join President Richard Nixon's administration, initially as deputy under secretary of health, education and welfare. The following year, Malek was named special assistant to the president. It was in this capacity that Nixon, afraid in 1971 that Jews working in BLS were making him look bad with unemployment statistics, told Chief of Staff H.R. (Bob) Haldeman, "We've got to get a man in charge who is not Jewish to control the Jewish … do you understand?" Haldeman gave Malek the job. Malek came back with a list of BLS employees with "Jewish-sounding" names, some of whom were demoted.
Malek initially claimed he compiled the list under protest, but documents released by the National Archives years later showed he was much more involved in the process than he let on. A Malek memo to Haldeman said "I had several meetings with [Labor] Secretary [James D.] Hodgson to convince him of the need for fairly drastic moves."
Malek also helped Nixon with an early version of affirmative action. In a memo, he told Nixon, "Competent women who can compete with men should be placed in selected positions, especially in those with symbolic value."
Malek's compliance with Nixon's requests earned him a spot in 1973 as deputy director of the Office of Management and Budget.
Malek left the Gerald Ford administration in 1975 to join the board of hotel giant Marriott. In 1978, he was named executive vice president in charge of hotels, construction and Sun Line Cruises. Malek was a success there, improving profits 18%. That year, he also published a book, Washington's Hidden Tragedy, which recommended government follow business management principles. He also kept his hand in government; in 1981, President Ronald Reagan appointed him to the U.S. Postal Service board of governors.
In 1989, Malek joined the Carlyle Group, the huge private equity firm, where he led the purchase of real estate company Coldwell Banker from Sears and was co-chairman of the company until 1996. Nineteen eighty-nine was a busy year for Malek; he also was part of the group that bought Northwest Airlines. To pay off the debt from that purchase, Malek and his partners sold aircraft, valuable Tokyo real estate and other airline assets. Nonetheless, the airline flirted with bankruptcy in 1993 until it obtained concessions from its employees.
President George H.W. Bush appointed Malek to coordinate the 1990 summit of industrialized nations. It was seen as a tryout for a possible position as Bush's chief of staff. But when Malek's "Jew counting" was in the news again, he was passed over. Bush did appoint Malek to chair his ultimately unsuccessful 1992 re-election campaign, with Malek giving up his job as vice chairman of Northwest Airlines to do so. Malek tried to convince Bush to stop playing golf and riding in his speedboat because it reinforced his image of being out of touch with voters He also lobbied the president to replace Dan Quayle as his vice-presidential candidate. Bush ignored both pieces of advice.
Later, with George W. Bush, Malek owned an interest in the Texas Rangers baseball team. Starting in 1999, he worked hard to bring a major league team to Washington D.C.
Malek founded two private equity firms, Thayer Capital Partners and Thayer Lodging Group, in 1991. The companies were named for Sylvanus Thayer, considered the founder of the U.S. Military Academy at West Point. Malek in 2008 was personally fined $100,000 and Thayer Capital Partners fined $150,000 for paying former Connecticut state Senate Majority Leader William DiBella for investing state pension funds in Thayer.
In 2010, Virginia Governor Bob McDonnell, who was driven from office after being convicted of federal corruption charges—later overturned by the Supreme Court—appointed Malek to the Virginia Commission on Government Reform and Restructuring. Malek's past, both the "Jew counting" and the SEC fines caught up with him again, but McDonnell claimed that he hadn't known about those parts of Malek's history.
Malek was co-chairman of the finance committee for John McCain in 2008 and raised $500,000 for his campaign. In January 2009, he hosted a dinner for Sarah Palin, whose reputation had been damaged during her campaign for vice-president a few months earlier, so that she could meet such notables as Dick Cheney, Diane Feinstein, Madelaine Albright, Mitch McConnell, Elaine Chao and Alan Greenspan. In 2012, he supported Mitt Romney's candidacy for president.
Malek and his wife, Marlene, have two adult children. He's a fitness enthusiast and enjoys biking and swimming.
-Steve Straehley
To Learn More:
Trump Picks "Jew Counter" at Center of Nixon-Era Anti-Semitic Campaign to Lead Powerful Think Tank (by Aaron Rupar, Think Progress)
Political Donations and more Political Donations (OpenSecrets.org)
Fred Malek's Pursuit of Success Includes Stops at West Point, White House, Marriott (by Thomas Heath, Washington Post)
Why Can't People Forgive Fred Malek for a Little Dog-Roasting? (by Elspeth Reeve, The Atlantic)
What's the Matter With Virginia? Part 2 (by Timothy Noah, Slate)
Brokering Power In Business and Politics (by Michael S. Rosenwald, Washington Post)