Chairman of the Udall Foundation: Who Is Eric Eberhard?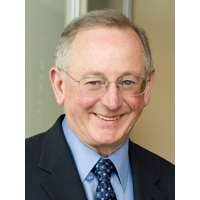 Eric Eberhard
Eric D. Eberhard, an attorney who has spent the majority of his career working on issues pertaining to Native Americans, was first elected chairman of the Udall Foundation in October 2011 and was re-elected to the post in 2016. Established in 1992, the Udall Foundation is an independent federal agency specializing in aid for American Indians and Alaska Natives that provides scholarships, fellowships, and internships, seeking future leaders across a wide spectrum of environmental fields, including business, education, engineering, health, justice, and urban planning and renewal.
Eberhard graduated from Western Reserve University in 1967 with a B.A. in political science. He then earned a J.D. at the University of Cincinnati in 1970 and an LL.M. from George Washington in 1972.
Beginning in 1973, he provided legal services on the Navajo, Hopi and White Mountain Apache reservations. Eberhard served as deputy attorney of the Navajo Nation from 1983 to 1985, when he became director of the nation's Washington office; in essence, its chief lobbyist.
In 1989, Eberhard began a stint working for Sen. John McCain (R-Arizona) as general counsel and staffer on the Senate Indian Affairs Committee. Eberhard has spoken glowingly of McCain's affinity for issues concerning Native Americans. "He loved to engage in discussion about Indian issues," Eberhard told the San Jose Mercury News in 2000. "Anybody who wanted to take part, from senior staffers to the guy sorting the mail, had complete access to him."
Eberhard left government service in 1995 to become a partner in the Seattle office of the Dorsey and Whitney law firm, still working on Native American concerns including representation of Indian tribes, tribal organizations and entities doing business with tribes. He remained there until 2009, when he was named distinguished Indian law practitioner at Seattle University.
Eberhard was first named to the Udall board of trustees in December 2000 and was subsequently reappointed by Democratic and Republican presidents. From 2001 to 2011 he led its Committee on the Native Nations Institute for Leadership, Management and Policy at the University of Arizona, which provides tribal decision makers with professional training to assist them in building economically and socially sustainable sovereign governments.
The Udall Foundation endured some controversy in 2014 when the Arizona Daily Star reported that a 2012 audit by the Interior Department's inspector general "found the agency wasn't meeting federal requirements to monitor and assess its spending and lacked key procedures to check for efficiency and guard against fraud or mistakes in personnel and contracting." Eberhard, serving as chairman, said in a Udall Foundation annual report that the organization was implementing changes that "will ultimately result in greater accountability and improved performance across the foundation's programs." 
Eberhard teaches Indian law at the University of Washington.
-Steve Straehley
To Learn More:
Significant Lapses Found at Udall Foundation (by Becky Pallack, Arizona Daily Star)