Chairman of the Railroad Retirement Board: Who Is Tom Kotarac?
Wednesday, April 19, 2017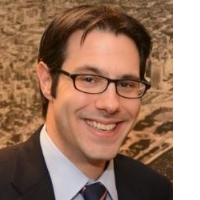 Tom Kotarac
Thomas G. Kotarac was nominated by President Barack Obama on June 22, 2016, to chair the Railroad Retirement Board (RRB). His nomination was not confirmed by the Senate.
Kotarac grew up in a Croatian-American community on Chicago's South Side. He attended the University of Illinois, graduating with a B.A. in 2001. His first job after graduation was as citizen outreach director for the Illinois Public Interest Research Group.
In August 2002, Kotarac went to work for Rep. Luis Gutierrez (D), whose district includes part of Chicago's South Side. Kotarac began as an aide and legislative correspondent, but six months later he became a legislative assistant and, a year after that, Gutierrez's senior legislative assistant.
Kotarac moved to the other side of the Capitol in February 2007 to work for Sen. Dick Durbin (D-Illinois). Kotarac began as a projects director and, after five years, moved up to senior policy adviser, working on transportation legislation. Kotarac scored a minor victory when he learned that Sen. John McCain (R-Arizona) planned to amend a spending bill to kill funding for Illinois bike trails. Kotarac was able to alert Durbin to the threat and the bike trails, including one running through Chicago's southern neighborhoods, were saved. Some of the bigger bills Kotarac worked on include those improving railroad infrastructure and service and water resources.
Kotarac left the Senate in February 2015 to become deputy executive director for policy and programming for the Chicago Metropolitan Agency for Planning. He held that post when he was nominated to the RRB and continues there today. Kotarac deals with transportation, land use, economic development, housing, tax policy, and governance issues. He also oversees the programming of $250 million in transportation funds that go through his agency.
As a South Sider, Kotarac is a huge White Sox baseball fan. He also served as social media editor for a neighborhood news site. He is married to Regan Lachapelle, a spokesperson for the Clinton Health Access Initiative.
-Steve Straehley
To Learn More:
Ex-Durbin Aide Kotarac to Head Rail Retirement Agency Here (by Greg Hinz, Crain's Chicago Business)