Chairman of the Nuclear Regulatory Commission: Who Is Stephen Burns?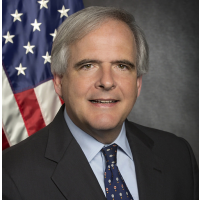 Stephen Burns
Stephen G. Burns became a commissioner of the Nuclear Regulatory Commission (NRC) on November 5, 2014, with a term ending June 30, 2019. An independent agency of the US government, the NRC is responsible for regulating the nuclear power industry, including inspecting and licensing nuclear power plants. Burns served as the NRC's 16th chairman from January 1, 2015, through January 23, 2017.
Born April 29, 1953, in New York City, Stephen Gilbert Burns was the son of Gilbert Leo, a career Army officer, and Ellen (Scully) Burns, who died when Stephen was barely three years old. He earned a B.A. in German and History at Colgate University in 1975, studied abroad at the University of Vienna, and earned a JD at the George Washington University Law School in 1978, where he was an editor on the George Washington Law Review.
Burns joined the NRC right after law school. His early career assignments included serving as deputy chief counsel in the Regional Operations and Enforcement Division from 1978 to 1983, legal assistant to the commissioner from 1983 to 1986, and executive assistant to NRC Chairman Kenneth M. Carr from July 1989 to June 1991. Burns served as director of the Office of Commission Appellate Adjudication from July 1991 to June 1994, associate general counsel from July 1994 to January 1998, deputy general counsel from January 1998 to April 2009, and as general counsel from May 2009 until April 2012, when he retired from the NRC. As general counsel, he supervised a staff of 110 employees.
Burns served as head of legal affairs of the Nuclear Energy Agency (NEA) of the Organisation for Economic Co-operation and Development in Paris from April 2012 to November 2014. He provided legal advice to NEA management, supervised the NEA's legal education and publications program, and provided advice and secretariat services to the Nuclear Law Committee and to the Contracting Parties to the Paris Convention on Third Party Liability in the Field of Nuclear Energy.
Burns married Joan Louise Wallace in August 1977. The couple has two grown children, Christopher and Allison.
-Matt Bewig
To Learn More:
Hearing on the Nominations of Jeffery M. Baran and Stephen G. Burns to be Members of the Nuclear Regulatory Commission (pdf)