Chairman of the Japan-U.S. Friendship Commission: Who Is Harry Hill?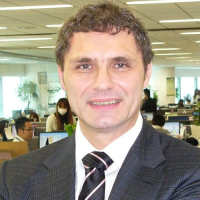 Harry Hill
Harry A. Hill, an American businessman with long experience working in Japan, was appointed to lead the Japan-U.S. Friendship Commission in February 2014. Created in 1975, the Commission provides grants to institutions that promote scholarly, cultural, and public affairs exchanges between the two countries.
Hill was born July 22, 1963, and is from the New York City area. He attended the Dwight-Englewood School in New Jersey and went on to Cornell University, where he graduated in 1985 with a B.A. in English literature.
He left shortly thereafter for Japan, where he worked for 3½ years as an English teacher in the Gifu prefecture schools. He later wrote that, "My interest in Japan grew after my freshman year at university in 1981 after I read a book called Japan as Number One, by Ezra Vogel. Around the same time, I started practicing a Japanese martial art called Shorinji Kempo, which increased my interest in Japan."
Hill returned to New York briefly to work for Yamaichi Securities on Wall Street, but by 1990 was back in Japan as an entrepreneur. He ran a company that did sports marketing and cultural exchanges and in 1991 founded H&R Consultants with Robert Roche, which handled relocation and associated services in the Nagoya and Tokyo areas.
In 1997, Hill returned to the United States for a time but was back in Japan in 1999 as a call center manager for Oak Lawn Marketing, which was owned by Roche. Oak Lawn began to concentrate on infomercials and became the largest such brand in Japan. Hill was made director of direct response television for Oak Lawn in 2006 and the following year had one of the company's biggest hits with the Billy's Boot Camp exercise video. It was the first successful tape of its kind in Japan.
Oak Lawn was bought in 2009 by Japanese telecommunications giant NTT Docomo, and Hill was named president-CEO of the division, the first non-Japanese to lead an NTT unit. In 2012, Hill was chosen to lead the Electronic Retailing Association, a Washington-based trade association. He was the first leader of a non-U.S. company to head the group.
Hill met his wife, Yumiko, in a dojo, and they married in June 1988. They have five children—Rina, Ken, Sean, Ellie and Mari—and live in Nagakute City. Rina played basketball for Louisiana State University and Ellie for Vanguard University in California. Hill is an avid practitioner of Nagakute branch of Shorinji Kempo and holds a fifth-degree black belt. He also participates in kickboxing tournaments.
-Steve Straehley
To Learn More:
The JET Programme: A Great Way to Experience Japan (by Harry A. Hill, Government of Japan)
Entrepreneur Taps His Foreign Nature (by Minoru Matsutani, Japan Times)