Chairman of the Export-Import Bank: Who Was Scott Garrett?
Thursday, December 21, 2017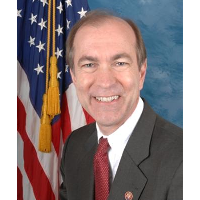 Scott Garrett
In former Congressman Scott Garrett, President Donald Trump once again chose someone to lead an agency whose existence he opposes. In this case, Garrett, a New Jersey Republican who was defeated in his re-election bid in 2016, was nominated to lead the Export-Import Bank, the agency that makes loans to U.S. businesses—at low rates—that helps them do business abroad. Trump nominated Garrett in April 2017, but, in the end, even some congressional Republicans couldn't stomach Garrett, and his nomination was rejected, 13-10, on December 19, 2017, by the Senate Banking Committee.
Ernest Scott Garrett was born July 9, 1959, in Englewood, New Jersey. His father, also Ernest, and his mother, Sue, moved the family to rural Sussex County during Garrett's childhood. His father worked for U.S. Rubber, which later became Uniroyal. Garrett had an early interest in government; he attended town council meetings as a teen and would get in trouble when they ran late. Garrett graduated from High Point Regional High School and went on to earn a B.A. in political science at Montclair State University in 1981. Garrett then earned a J.D. from Rutgers-Camden law school in 1984.
Garrett was interested in environmental law, but found no such opportunities when he graduated from law school, so he went to work for Selective Insurance. He wasn't there long, but the relationship proved beneficial to Garrett; Selective was the source of thousands of dollars of campaign donations over the years. Garrett subsequently went into private practice, mostly taking personal injury insurance cases for the firm of Sellar, Richardson.
Garrett won a New Jersey Assembly seat in 1990 and worked his way up to become chairman of the Banking and Insurance Commission. In 1998 and 2000, he made a move for the U.S. House of Representatives, unsuccessfully challenging Republican incumbent Marge Roukema. When Roukema retired in 2002, Garrett won the Republican primary and was elected to Congress from New Jersey's 5th District.
Garrett was considered the most conservative member of New Jersey's congressional delegation and one of the most conservative members of Congress. The American Conservative Union gave him a lifetime rating of 99.38%. He voted against such proposals as extending unemployment benefits, raising the minimum wage and prohibiting price gouging by oil companies. He opposed the reauthorization of the Voting Rights Act because he didn't believe that ballots should be printed in languages other than English. Despite claiming to be concerned with the environment, Garrett voted to lift a ban on oil and gas drilling off the New Jersey coast.
In 2008, Garrett's general election opponent was Dennis Shulman, a blind rabbi. Garrett kept his seat despite Shulman's charge that Garrett took advantage of lower agricultural tax rates by having his brother grow Christmas trees on property that might otherwise be taxed for far more.
After Garrett told fellow Republicans on the House Financial Services Committee in 2015 that he wouldn't give dues to the National Republican Congressional Committee because it supported gay candidates, Democrats saw a chance to take back Garrett's seat. Democrat Josh Gottheimer, a former Bill Clinton speechwriter, won a brutal race in which an anti-Semitic flyer emerged showing Gottheimer with devil's horns was circulated. Garrett's campaign denounced the flyer, while suggesting Gottheimer's campaign had produced it.
During the campaign, Garrett criticized Trump for his lewd, misogynistic "Access Hollywood" comments. However, they didn't keep Garrett, who homeschooled daughters Jennifer and Brittany because he and his wife, Mary Ellen, couldn't find a Christian high school for them near their home, from supporting Trump in the general election.
The Ex-Im Bank has been a target of criticism from the right, including Garrett, and from the left, both of which accuse the bank's loans of being a source of corporate welfare. In the past five years, Garrett has voted twice against funding the Ex-Im Bank.
Garrett however is a close ally of Vice President Mike Pence, who vigorously lobbied the Senate Banking Committee to approve the nomination, which languished for eight months. Boeing, General Electric and the National Association of Manufacturers were among those lined up in opposition to Garrett. It was clear that he was unlikely to be approved, but Trump refused to pull the nomination, leading to the humiliation of having it denied by members of his own party.
"At least for a while early in this process, I think they legitimately thought that Garrett could get the votes," U.S. Chamber of Commerce chief policy officer Neil Bradley said, according to Politico. "Once it became clear that Garrett couldn't get the votes, I'm not sure why they persisted to move all the way through to an actual vote and have him defeated."
Democrats were also opposed to Garrett. All seven on the committee signed a letter reading, in part: "It is clear that Mr. Garrett's record of animus toward the agency deems him unfit to assume the role of President and carry forth its mission to facilitate the export of U.S. goods and services and promote job creation across the United States….The Export-Import Bank is far too important to the United States' economy to place it under the stewardship of such an avowed opponent. It is unconscionable that the president would nominate Mr. Garrett."
-Steve Straehley
To Learn More:
Garrett's Failure To Win Ex-Im Confirmation Stings Pence, Too (by Zachary Warmbrodt and Andrew Restuccia, Politico)
4 Trump Nominees Have Gone Down in One Week, and He's Got GOP Senators to Blame (by Aaron Blake, Washington Post)
A Democrat Wins a Race for Congress in New Jersey (by William Neuman, New York Times)
Meet Scott Garrett (by Joanne Palmer, New Jersey Jewish Standard)
U.S. Rep. Scott Garrett's Conservative Beliefs Grounded in N.J. Upbringing, Study of History (by Bob Braun, Newark Star-Ledger)