Chairman of the Commodities Futures Trading Commission: Who Is J. Christopher Giancarlo?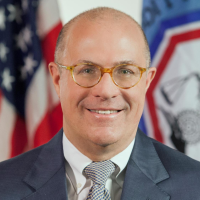 J. Christopher Giancarlo
J. Christopher "Chris" Giancarlo, who has served on the Commodities Futures Trading Commission (CFTC) as a Republican member since 2014, has been serving as acting chairman of the board since January 20, 2017, and has been nominated for the post on a permanent basis. Established in 1974, the mission of the CFTC is to oversee the trading of futures for oil, precious metals, grains, currencies, and other commodities, and to regulate trading in derivatives linked to stock indexes and bonds.
Giancarlo was born in Jersey City, New Jersey, on May 12, 1959, and grew up in northern New Jersey. His father, Hector, was a physician and developer of assisted living and nursing facilities for seniors. Giancarlo attended Skidmore College in Saratoga Springs, New York, where he earned a B.A. in government in 1981. While there, he developed an interest in Dracula and began collecting Dracula-related items. Years later, he donated some of his collection back to Skidmore. In honor of one of his professors, Phyllis Roth, who died in 2012, Giancarlo and his wife, Regina, created the Phyllis A. Roth Vampire Literature College in Skidmore's Scribner Library. Giancarlo earned a J.D. from Vanderbilt's law school in 1985.
Giancarlo's first job out of law school was as an associate for the law firm of Mudge, Rose, Guthrie and Alexander. The firm's alumni include Republican stalwarts Richard Nixon, Scooter Libby and Pat Buchanan. He was there just a short time though; the following year he joined Curtis, Mallet-Prevost, Colt and Mosle and worked in that firm's London office.
In early 1992, Giancarlo briefly served as director of business affairs at Ourtown Television in Saratoga Springs. However, he left shortly thereafter to form his own law firm, Giancarlo and Gleiberman. Giancarlo in 1997 left his firm to become a partner at Brown Raysman Millstein Felder and Steiner, where he practiced corporate and securities law.
Giancarlo moved into the trading world in 2000 as executive vice president and counsel for Fenics Software, which made derivatives trading programs. The following year, GFI Group, a company that provides brokerage services to institutional customers, bought Fenics, and Giancarlo was made executive vice president of GFI. GFI is known as an "inter-dealer broker," acting as an intermediary in the bond and derivative markets, of which Giancarlo is now in charge of regulating. While still at GFI in 2011, Giancarlo testified to the House Financial Services Committee urging a go-slow approach to regulating derivatives trading. He remained at GFI until being appointed to the CFTC in 2013. He was also chairman of the Wholesale Markets Brokers Association Americas, which represents the largest inter-dealer brokerage firms.
His nomination to a five-year term was confirmed June 2, 2014. In 2015, Giancarlo wrote a paper criticizing some of the CFTC's reforms. His nomination to chair CFTC was warmly greeted by the investment industry, which is hoping for less regulation.
Giancarlo and his wife, Regina, have three children, Emma, Luke and Henry. Giancarlo plays banjo and guitar and in fact his banjo playing was featured on "Grand Reveal," a 2013 album by British recording artist Mike Marlin.
-Steve Straehley
To Learn More:
CFTC: A New Direction Forward—Remarks of Acting Chairman J. Christopher Giancarlo before the 42nd Annual International Futures Industry Conference
Senate Confirms Christopher Giancarlo '81 as CFTC Commissioner (Skidmore College)
Statement of J. Christopher Giancarlo Before the United States Senate Committee on Agriculture, Nutrition and Forestry