Chair of the United States Sentencing Commission: Who is William H. Pryor Jr.?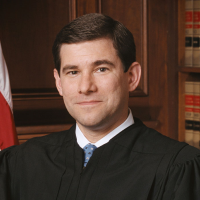 William H. Pryor, Jr.
William H. Pryor, who has been acting chair of the United States Sentencing Commission (USSC) since January 3, 2017, was nominated by President Donald Trump on March 1, 2018, to become permanent chair. Pryor has been a judge on the Eleventh Circuit U.S. Court of Appeals in Atlanta since 2004. USSC is an independent agency in the federal judicial branch that writes sentencing guidelines so that defendants convicted of similar crimes will receive similar sentences in federal courts across the country. USSC has seven voting members appointed by the president and confirmed by the Senate. Pryor was first named to USSC by President Barack Obama on April 15, 2013, to a position that expired on October 31, 2017.
Pryor's views of sentencing guidelines have been criticized by some as extreme because he so strongly supports mandatory guidelines that he opposes the right of judges to take into account the individual backgrounds and family histories of defendants. His views are expressed in a speech he gave in 2017, Returning to Marvin Frankel's First Principles in Federal Sentencing.
As acting chair, Pryor has been a conservative, but not divisive, figure. Yet, he once told a cheering crowd, "I became a lawyer because I wanted to fight the ACLU—the Anti-American Civil Liberties Union." He supports a new effort to increase the penalties related to synthetic drugs like fentanyl and K-2, contending that, "It is important that the sentencing guidelines account for our most current understanding of the chemical structure, potency and effect, trafficking trends, and community impact of these drugs."
Born April 26, 1962, in Mobile, Alabama, to William Holcombe Pryor Sr., a high school bandleader, and Laura Louise (Bowles), a teacher, Pryor was the eldest of four siblings.
Although his parents were Democrats, Pryor began handing out flyers for a Republican candidate while he was still in elementary school. Growing up Catholic, Pryor graduated McGill–Toolen Catholic High School in Mobile in 1980. Pryor won a band scholarship to Northeast Louisiana University (now University of Louisiana, Monroe), earning a B.A. in 1984. Pryor earned his J.D. at Tulane University Law School in 1987, where he was editor-in-chief of the Tulane Law Review.
After law school, Pryor clerked from 1987 to 1988 for the legendary John Minor Wisdom, a judge on the U.S. Court of Appeals for the Fifth Circuit who authored or joined in numerous key civil rights decisions in the 1950s and 1960s.
Pryor practiced law in Birmingham, Alabama, for the next eight years, first at Cabaniss, Johnston, Gardner, Dumas & O'Neal from 1988 to 1991, and then at Walston, Stabler, Wells, Anderson & Bains from 1991 to 1995. He also taught maritime law as an adjunct professor at Samford University's Cumberland School of Law from 1989 to 1995.
Pryor switched to government work in 1995 when Alabama Attorney General Jeff Sessions, who is now U.S. Attorney General, hired him to serve as deputy attorney general. When Sessions won a U.S. Senate seat in 2007, Pryor became attorney general of Alabama. He was elected in 1998 and reelected in 2002, resigning in February 2004 when President George W. Bush appointed him to the 11th Circuit Court of Appeals.
As Alabama attorney general, Pryor backed efforts to establish the Alabama Sentencing Commission as a way to reform criminal sentences. Reliably conservative, Pryor called Roe v. Wade "the worst abomination of constitutional law in our history," and in a brief to the Supreme Court warned that if it recognized a constitutional right to homosexual sex, it would "logically extend" to activities like "prostitution, adultery, necrophilia, bestiality, incest and pedophilia."
However, he has also angered religious conservatives with some of his actions. For example, as Alabama's attorney general in 2003, he removed from office Alabama Chief Justice Roy Moore because Moore defied a federal court order to remove a Ten Commandments monument from the state Supreme Court building. In response to Moore's argument that he was following his Christian duty, Pryor noted that, "Christ did not command us to maintain a monument of the Ten Commandments in the rotunda of the State Judicial Building."
Similarly, in February 2018, he ruled against the 88% white city of Gardendale, Alabama, when it tried to form its own school district separate that of Jefferson County, which has a population that is almost half non-white.
Since 2006, Pryor has been a visiting professor at the University of Alabama School of Law.
Pryor and his wife, Kristan (Wilson) Pryor, have two daughters, Caroline and Victoria.
-Matt Bewig
To Learn More:
Trump's 'Bipartisan' Nominees to Sentencing Commission Tilt Conservative (by Ted Gest, CrimeReport)
Potential Nominee Profile: William Pryor (Expanded) (by Kevin Russell and Charles Davis, SCOTUS Blog)
Trump's Potential SCOTUS Pick Has Said Crazy Awful Things About Queer People (by Cavan Sieczkowski, Huffington Post)
Supreme Court Candidate Ties to Monroe (by Kayla Lusby, MyArkLaMiss.com)
Pryor: Perhaps the most Polarizing Supreme Court Justice Possibility (by Kimberley Kindy, Washington Post)
Federalism and Sentencing Reform in the Post-Blakely/Booker Era (by William H. Pryor Jr., Ohio State Journal of Criminal Law)
Moral Duty and the Rule of Law (by William H. Pryor Jr., Harvard Journal of Law & Public Policy)
Bill Pryor Hopes to Ride Court Crusade to the Top (by Kelly Greene, Wall Street Journal)