Chair of the State Justice Institute: Who Is Chase Rogers?
Wednesday, April 26, 2017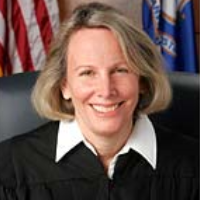 Chase Rogers
The head of the State Justice Institute (SJI) since 2016 has been Chase T. Rogers, whose day job is as chief justice of the Connecticut Supreme Court. A nonprofit corporation that funds efforts to improve the quality of justice in state courts, SJI, which was established in 1984, is responsible for communicating the results of those efforts to state and federal courts across the country. Rogers was appointed to the SJI board of directors in December 2010 by President Barack Obama, and elected chairperson on June 13, 2016.
Chase Theodora Rogers was born November 12, 1956, in New York City, to Richard B. Rogers, a senior vice president of Simplicity Inc., which makes clothing patterns, and Nancy Chase Rogers, founder of N.C. Rogers Associates, a personnel consulting firm in Stamford, Connecticut. After graduating Roger Ludlowe High School in Fairfield, Connecticut, in 1975, Rogers earned a B.A. at Stanford University in 1979, and a JD at Boston University School of Law in 1983.
Rogers spent the first 15 years of her career in private practice at the law firm of Cummings & Lockwood in Stamford, where she specialized in commercial and employment litigation. In 1991, she was elected as a partner of the firm.
Rogers left private practice in January 1998 to become a Superior Court judge. Her assignments included serving as the presiding juvenile judge in Bridgeport, the presiding civil judge in Stamford-Norwalk, the regional Child Protection Session in Middletown, and the Complex Litigation Docket in Stamford.
After eight years on the bench, Rogers became an appeals court judge in March 2006, serving on the Connecticut Appellate Court until April 25, 2007, when she was sworn in as chief justice of the Connecticut Supreme Court. Her current term expires in 2023.
Rogers was appointed to the Federal-State Jurisdiction Committee of the Judicial Conference of the United States by U.S. Supreme Court Chief Justice John Roberts in 2012. Rogers also serves as a member of the Board of Directors for the Conference of Chief Justices and as a member of the Civil Justice Implementation Steering Committee and was selected as chairperson on August 18, 2016. She has also served on the National Center for State Courts Expanding Court Access to Justice Project Advisory Committee and the Conference of Chief Justices Civil Justice Initiative Committee. Rogers has been an adjunct professor at the University of Connecticut School of Law since 2012.
Rogers has been married to attorney Edward V. O'Hanlan since December 21, 1985. They have two adult children, Sean and Ned.
-Matt Bewig
To Learn More:
Chase Rogers Easily Gains Confirmation as Chief Justice (by Christopher Keating, Hartford Courant)
Live Webstreaming of CT Supreme Court Arguments (by Dan Klau, Appealingly Brief)
New Canaan Judge Named to Lead High Court (by Brian Lockhart, Stamford Advocate)