Chair of the Intelligence Oversight Board: Who is Neil Wolin?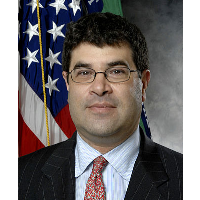 Neil Wolin
Neil Steven Wolin became chair of the Intelligence Oversight Board (IOB) on May 24, 2015. It is through the IOB that the President's Intelligence Advisory Board advises the president of the United States on the legality of foreign intelligence activities. The IOB also investigates violations of the laws that govern clandestine surveillance. It was created by President Gerald Ford via executive order on March 1, 1976, in response to a 1975–1976 congressional investigation into assassination operations and domestic spying conducted by U.S. intelligence agencies.
Wolin was born in Evanston, Illinois, on December 9, 1961. He and his younger sister, Karen, were raised by parents Harry S. and Doris W. Wolin. Harry was a partner in the Chicago law firm of Cohon, Raizes & Regal, and Doris worked for the Jewish Federation of Metropolitan Chicago as director of the Israel Experience, a program devoted to helping young adults visit Israel. Neil Wolin earned a B.A. in history from Yale University in 1983, an M.Sc. in development economics from England's Balliol College at the University of Oxford in 1985, and a J.D. from Yale Law School in 1988.
After graduating from law school, Wolin took a job as a law clerk to U.S. District Judge Eugene Nickerson in Brooklyn, New York, and taught at Brooklyn Law School. He also did work for the law firm of Wilmer, Cutler & Pickering in Washington, D.C.
Wolin then joined the Clinton administration to serve as deputy legal advisor to the National Security Council. In 1995, he served as deputy general counsel of the Department of the Treasury. He became general counsel in July 1999, a post he held until January 2001 when George W. Bush became president of the United States. Wolin also worked as executive assistant to two national security advisors—Anthony Lake and Sandy Berger—and as special assistant to three CIA directors, William H. Webster, Robert Gates and R. James Woolsey, Jr.
In early 2001, Wolin became an adjunct assistant professor at the Kennedy School of Government at Harvard University, and a visiting fellow in economic studies at the Brookings Institution.
In March 2001, Wolin set off for Hartford, Connecticut, to join the Hartford Financial Services Group as its executive vice president and general counsel. In June 2007, he rose to the position of president and chief operating officer of Hartford's property and casualty operations. His responsibilities included overseeing the company's communications, government affairs, law, marketing and tax functions.
In February 2009, Wolin returned to Washington to join the Obama administration as deputy assistant to the president and deputy counsel to the president for economic policy. His duties included advising the president, his staff, and the National Economic Council on housing policy, their response to the financial crisis, and the design and implementation of the Recovery Act.
Wolin's job lasted only four months. In March 2009, President Barack Obama nominated him as deputy secretary of the Treasury, an appointment that prompted objections from both the left and the right. The left objected to Wolin's role in providing "the technical and legal drafting" for the Gramm-Leach-Bliley Act, which repealed the 1933 Glass-Steagall Act and played an important role in causing the economic collapse of 2008. The Gramm-Leach-Bliley Act lifted the federal restrictions on banks using depositors' money as capital for corporate investments and mergers and as collateral for risky loans. The right was suspicious of Wolin because he was a major player for Hartford Insurance, which was now requesting bailout funds from the Department of Treasury. Nonetheless, he was confirmed by the U.S. Senate on May 18, 2009.
When Timothy Geithner stepped down as secretary of the Treasury on January 25, 2013, Wolin became acting secretary until Jack Lew took over as secretary on February 28, 2013.​ Wolin continued to serve as deputy secretary until September 2013, making him the longest-serving individual to hold that post, according to the Treasury Department.
Wolin subsequently became an advisor to venture capital firm Nyca Partners and consultant/senior counselor at The Brunswick Group. He also became an equity partner at Data Collective Venture Capital and a board partner at The Social+Capital Partnership, both venture capital firms based in northern California.
Wolin is married to Nicole Louise Elkon, a former special assistant and deputy director of scheduling to President Bill Clinton (1995 to 1997) and former director of planning for the National Security Council (1997 to 1999). She was also the chief of staff and the director of communications for the New York-based 9/11 United Services Group, which coordinates charitable assistance for victims of the 9/11 terrorist attacks and their families.
Although Wolin and Elkon both worked in the White House during the Clinton administration, they didn't meet until a mutual friend introduced them in July 2001.
-Danny Biederman
To Learn More:
Reflections from the Former Deputy Treasury Secretary (by Noah Silverman (noahsilverman.com)