10-Year Anniversary of the Bill That Led to the Current Economic Crisis
Sunday, November 15, 2009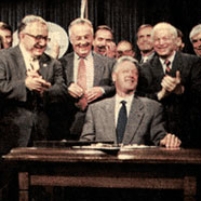 President Clinton signs the repeal of Glass-Steagall, November 12, 1999
The legislation sounded innocuous enough: The Financial Modernization Act. But proponents, who included almost the entire U.S. Senate and the Clinton administration, were euphoric over the passage of the bill in November 1999 that revoked the Depression-era Glass-Steagall Act, and consequently helped lay the quicksand foundation that sunk the nation into the Great Recession less than 10 years later.
The Glass-Steagall Act, officially known as the Banking Act of 1933, separated commercial banks, those that held the deposits of everyday citizens, from investment banks that engaged in risky profit-making strategies. This separation protected depositors' savings from the possible excesses of the investment banks, and it worked well for 65 years.
The Financial Modernization Act, or Gramm-Leach-Bliley as it came to be known, lifted the federal restrictions on banks using depositors' money as capital for corporate investments and mergers and as collateral for risky loans. Supporters of Gramm-Leach-Bliley promised great things would come of deregulating banks. Then-Treasury Secretary Lawrence Summers said, "This historic legislation will better enable American companies to compete in the new economy," and declared it would "benefit American consumers, business, and the national economy for many years to come." Summers, who was painfully wrong in his assessment, is now the director of President Barack Obama's National Economic Council.
But not everyone on Capitol Hill was happy with the repeal of Glass-Steagall. Senator Byron Dorgan (D-ND) said, "I want to sound a warning call today about this legislation," which he added was "a financial swamp" and nothing short of "fundamentally terrible." The late Sen. Paul Wellstone (D-MN) put it this way: "Glass-Steagall was intended to protect our financial system by insulating commercial banking from other forms of risk. It was designed to prevent a handful of powerful financial conglomerates from holding the rest of the economy hostage. Glass-Steagall was one of the few stabilizers designed to keep that from ever happening again, and until recently, it was very successful."
A few other senators agreed with Dorgan and Wellstone, including Barbara Boxer (D-CA), Richard Shelby (R-AL), and Russ Feingold (D-WI). But opponents had no chance of preventing the act from passing because the momentum for "modernizing" the financial system was too great. The bill passed the Senate 90-8 and the House 362-57. President Clinton signed the bill on November 12, 1999. Less than nine years later, the risky and speculative practices that the repeal of Glass-Steagall unleashed led to the near-collapse of the U.S. economy and the bailing out of banks by U.S. taxpayers.
-Noel Brinkerhoff, David Wallechinsky