Chair of the Equal Employment Opportunity Commission: Who Is Jenny Yang?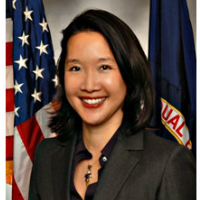 Jenny Yang
Jenny R. Yang is a commissioner of the U.S. Equal Employment Opportunity Commission (EEOC) with a term ending July 1, 2017. She served as chair of the Commission—the first Asian-American to do so—from September 1, 2014, to January 22, 2017, after a four-month stint as vice-chair beginning in April 2014. She began her term as a commissioner in May 2013. EEOC, whose mission is to fight all forms of discrimination in the workplace, has more than 2,200 employees and an annual budget of more than $365 million.
Born circa 1970, Jenny Rae Yang grew up in Livingston, New Jersey, the child of Chinese immigrants Sue Pai Yang, an attorney who became a judge, and Dr. Chung Shu Yang, a professor of pharmacy. The second of two daughters (her sister, Arlene Yang, is an attorney in San Diego), Yang says that she was inspired by her mother, who challenged discrimination at her workplace. She earned a B.A. in Government at Cornell University in 1973 and a J.D. at New York University School of Law in 1996.
After law school, Yang served as law clerk for Judge Edmund Ludwig of the U.S. District Court for the Eastern District of Pennsylvania from 1996 to 1997, and as an attorney for the National Employment Law Project in Washington, DC, from 1997 to 1998, where she focused on efforts to enforce the workplace rights of garment workers.
Yang started her government service as a senior trial attorney in the Employment Litigation Section of the Civil Rights Division of the Department of Justice from 1998 to 2003.
Yang went into private practice in early 2003 as an associate at the law firm of Cohen, Milstein, Sellers & Toll, rising to partner before leaving in May 2013. At Cohen Milstein, Yang represented plaintiffs, mainly workers, in civil rights class actions and wage and hour collective actions. Her prominent cases included Dukes v. Wal-Mart, the largest sex-discrimination class-action suit in history, in which she represented a class of 1.6 million women against Wal-Mart. The case went all the way to the Supreme Court before being dismissed on technical grounds.
From 2007 until her confirmation to the EEOC in 2013, Yang served as a board member and vice-chair of the Asian Pacific American Legal Resource Center. From 1998 to 2004, she served as co-chair and board member of the National Governing Board of the National Asian Pacific American Women's Forum.
Yang and her husband, Kil Huh, director of the States' Fiscal Health Project at the Pew Charitable Trusts, have two sons.
-Matt Bewig
To Learn More:
Portrait of a Happy Marriage: Almost 50 years and Growing Strong (by MaryLynn Schiavi, MyCentralJersey)