Chair of the Council on Environmental Quality: Who Is Kathleen Hartnett White?
Tuesday, October 31, 2017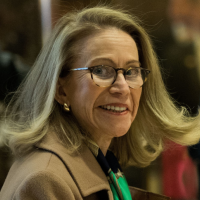 Kathleen Hartnett White (photo: Getty)
President Donald Trump has named a climate science denier to lead the Council on Environmental Quality (CEQ), a White House agency intended to coordinate federal environmental efforts and help to develop environmental policies. Kathleen Hartnett White has worked since 2008 at the Texas Public Policy Foundation, a right-wing group funded largely by fossil fuel interests and pro-corporate groups, where she has specialized in denying the conclusions reached by about 97% of climate scientists worldwide.
In her zeal to defend fossil fuels, White has claimed that "Fossil fuels dissolved the economic justification for slavery." If confirmed by the Senate, White would succeed Christy Goldfuss, who served as CEQ Chair from March 2015 to January 2017.
Born October 19, 1949, to attorney Andrew S. Hartnett and Mary Clare (Geis) Hartnett, Kathleen Hartnett White grew up on a cattle ranch near Salina, Kansas. After graduating Salina High School in 1967, where she was a cheerleader, she earned BA and MA degrees in Humanities and Religion at Stanford University in 1975. She also twice attempted to earn advanced degrees, studying for a PhD in Religion at Princeton University from 1976 to 1979, and attending law school for one year (1993-1994) at Texas Tech University.
After leaving Princeton, White was a freelance writer and consultant in New York City from 1979 to 1980, working on documentary film treatments and scripts for various clients, including National Geographic and the Brooklyn Museum. She then returned home to Salina to help run the Hartnett & Evans ranch from 1980 to 1985.
White took her first political job in 1985 as a full-time volunteer in the Office of First Lady Nancy Reagan.
White left the White House in 1987 to work for the National Cattlemen's Association, a lobbying group in Washington, DC that represented the interests of cattle-related agribusiness. As director of private lands and environment, White worked to weaken the Endangered Species Act and Clean Water Act when they came up for reauthorization.
White relocated to Lubbock, Texas, in 1993 to attend law school at Texas Tech. While there, she took a job with the Ranching Heritage Association as executive director responsible for museum administration at the Ranching Heritage Center at Texas Tech.
In 1995, she wrote an essay in which she argued that although she pledged allegiance to the United States, "Texas would be better off today as an independent republic free of the yoke of the present federal government."
In April 2000, Texas Governor George W. Bush appointed White to the Texas Water Development Board, which managed bond programs that make loans for local water projects.
In November 2001 White was appointed by Gov. Rick Perry—now Secretary of Energy—to be chair of the Texas Commission on Environmental Quality (TCEQ). At TCEQ, White was criticized for her consistent pro-polluter positions, including voting to approve a new coal plant despite a prior court ruling that the pollution controls for the proposal would not work. A 2003 state audit found that TCEQ did "not consistently ensure violators are held accountable" and polluters "often have economic benefits that exceed their penalties, which could reduce their incentive to comply." An investigation by Houston's KHOU-TV revealed that TCEQ told staff to alter radiation test results, reducing the levels recorded in drinking water to avoid federal protections.
In January 2008, White joined the Texas Public Policy Foundation, where she has worked ever since.
White has published numerous articles on environmental issues, mostly for right-leaning publications like the National Review, Washington Examiner, Daily Caller, and Townhall, although she has also been published in Investors' Business Daily, Roll Call, Forbes, and the Houston Chronicle. She is also the co-author, with Stephen Moore, of Fueling Freedom: Exposing the Mad War on Energy (2016), in which she argued that "Contrary to false reports in the media, virtually no documented environmental problems have been associated with fracking – ever."
Kathleen Hartnett White is married to Beau Brite White, with whom she has run a ranch in Presidio County, Texas, since 1994. She also breeds Jack Russell terriers.
-Matt Bewig
To Learn More:
Disclosure Form 2015 (House Committee on Natural Resources)
Trump Taps Climate Skeptic for Top White House Environmental Post (by Brady Dennis and Chris Mooney, Washington Post)
Possible EPA Chief has Salina Connection (by Tim Unruh, Salina Journal)
Q&A, Trump Energy Prospect on CO2, Jack Russell Terriers (by Robin Bravender, E&E News)
Trump Eyes Climate Skeptic for Key White House Environmental Post (by Alex Guillén and Andrew Restuccia, Politico)
Trump's Pick for White House Environmental Post Once Said Coal Helped End Slavery (by Alexander C. Kaufman, Huffpost)
Fossil Fuels: The Moral Case (by Kathleen Hartnett White, Texas Public Policy Foundation)