Secretary of Energy: Who Is Rick Perry?
Monday, February 06, 2017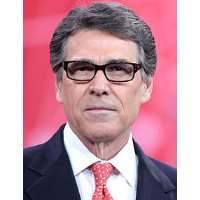 Rick Perry
On November 9, 2011, Texas Governor Rick Perry, who was campaigning for the Republican nomination for President, declared during a nationally televised debate that he wanted to get rid of the Department of Energy. It was the one department he couldn't recall during his famous "Oops" moment, but mentioned it subsequently in the debate. A bit more than six years later, Perry was nominated by Donald Trump to lead that department. On March 2, 2017, the U.S. Senate, also unfazed by Perry's desire to eliminate the department, voted 62 to 37 to confirm the nomination.
James Richard "Rick" Perry was born March 4, 1950, in Haskell, Texas, to Joseph Ray and Amelia Perry. Perry's father was a cotton farmer and a long-time Democratic county commissioner.
Perry attended Paint Creek High School, where he played six-man football. He graduated in 1968 and went on to Texas A&M University. He joined the Corps of Cadets there, something like a military school within the larger university, and was a yell leader for the Aggies' football team. He graduated in 1972 with a B.S. in animal science.
Perry then went into the Air Force. He was commissioned as a second lieutenant and was sent to flight school. He was assigned to fly C-130 cargo planes, which he did until leaving the service with the rank of captain in 1977.
He returned to Texas to farm cotton with his father. He almost became an airline pilot; during a 1978 drought the farm was failing and Perry had applied to Southwest Airlines. However, the drought ended and Perry stayed on the farm and eventually went into politics.
Perry was elected to the Texas House of Representatives—as a Democrat—in 1984. Even then, he was conservative and looked to cut spending. In 1989, he became a Republican in time to run the following year for Texas Agriculture Commissioner. With a campaign run by Karl Rove, Perry won the election. He was reelected to the job in 1994.
In 1998, he ran for lieutenant governor as the running mate of George W. Bush. During the race, Perry had a disagreement about tactics with Rove, who was running Bush's campaign. It was the start of a long-running feud between the two. Perry and Bush won their races, setting the stage for Perry to take over as governor when Bush was awarded the White House in 2000.
Perry won the statehouse on his own in 2002, 2006 and 2010. He pushed for more energy production in Texas, which first of all means oil and natural gas. Perry was also an advocate of so-called "clean coal." However, he also promoted wind power and championed the construction of a power grid to bring electricity generated by wind and other means from West Texas to population centers.
Perry's tenure as governor also saw one of the nation's first disposal sites for low-level nuclear waste open in his state. Waste Control Specialists opened a facility in Williams County in 2012 to accept items such as clothing, tools and building materials that have been contaminated by radioactivity. Perry also pushed to have the facility be able to take spent fuel from nuclear power plants, which for now is handled only at a federal facility at Yucca Mountain, Nevada. As Secretary of Energy, Perry will have a lot of input into that decision.
Perry is a strong advocate of the death penalty and nowhere was that more obvious than during the appeals by Cameron Todd Willingham. Willingham was convicted, using questionable evidence, of setting an arson fire that killed his three children. The Texas Forensic Science Commission concluded that the evidence didn't point to arson. Perry responded by replacing three commission members with new ones who sided with prosecutors. Willingham was executed February 17, 2004.
Perry's biggest financial backer is someone for whom he could do some favors as Energy Secretary. Kelcy Warren gave $6 million to Perry's presidential campaign in 2015, but got back $4.5 million when Perry dropped out of the race. Warren is CEO of Energy Transfer Partners, which owns the controversial Dakota Access Pipeline. Perry is a member of the Energy Transfer Partners board of directors, which he'll leave when confirmed as secretary.
Oil and gas interests have comprised most of Perry's political donors over the years. He raised more than $49 million in his last race for governor in 2010. Of that, $5.9 million came from oil and gas interests, $3.8 million from lawyers and lobbyists and $3 million from conservative policy organizations, according to the Center for Responsive Politics. He raised a comparatively paltry $19.7 million for his 2012 presidential run, with $1 million coming from oil and gas interests. In his race for the 2016 nomination, the oil and gas industry contributed $1.6 million to Perry's campaign and to related Super PACs.
Perry is a climate-change denier, writing in 2010 that those who believe the overwhelming evidence that the climate is changing "know that we have been experiencing a cooling trend, that the complexities of the global atmosphere have often eluded the most sophisticated scientists, and that draconian policies with dire economic effects based on so-called science may not stand the test of time." Further, he said during his 2012 campaign that "There are a substantial number of scientists who have manipulated data so that they will have dollars rolling into their projects."
In 2014, Perry was indicted on abuse of power charges for demanding that the Travis County District Attorney resign or he would cut the funding of the state's Public Integrity Unit, which was run out of the Travis D.A.'s office. That unit ran high-profile investigations and indicted former House Majority Leader Tom DeLay. The charges were dropped against Perry in 2016.
Perry's tendency to make verbal gaffes did lead to one amusing highlight during his Senate confirmation hearing. Sen. Al Franken (D-Minnesota) told Perry, "Thank you so much for coming into my office. Did you enjoy meeting me?" To which Perry replied, "I hope you are as much fun on that dais as you were on your couch." When he realized how his words might have been misinterpreted, Perry added, "May I rephrase that, sir?"
Perry and his wife, Anita, have two adult children: Griffin and Sydney.
-Steve Straehley
To Learn More:
"Learning Curve" as Rick Perry Pursues a Job He Initially Misunderstood (by Coral Davenport and David E. Sanger, New York Times)
Rick Perry's Energy Legacy Is More Complicated Than You Think (by Jim Malewitz and Kiah Collier, Texas Tribune)
Rick Perry, With Multiple Ties To CEO of Controversial Pipeline Project, Tapped for Energy Dept. (by Ashley Balcerzak, Center for Responsive Politics)
50 Things You Need to Know About Texas Gov. Rick Perry (Dallas Morning News)
Perry vs. Rove: How Their Feud Got Started (by Alex Roarty, The Atlantic)
Trump Taps Former Texas Gov. Rick Perry to Head Energy Department He Once Vowed to Abolish (by Juliet Eilperin and Steven Mufson, Washington Post)