Chair of the Consumer Product Safety Commission: Who Is Ann Marie Buerkle?
Thursday, August 10, 2017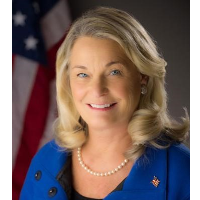 Ann Marie Buerkle
Ann Marie Buerkle, a former one-term Republican representative from upstate New York who has served on the Consumer Product Safety Commission (CPSC) since 2013, was nominated on July 25, 2017, to chair the independent agency. She had been the acting chair since February. The mission of the five-member CPSC is to protect the public from dangerous or harmful products, from toys to appliances.
Buerkle was born May 8, 1951, in Auburn, New York, to Sadie and Alfred Colella. Alfred was an insurance salesman for Metropolitan Life who also owned a market and a few roller rinks in the Syracuse area. Buerkle, one of five children, worked in those businesses as she grew up. She attended St. Alphonsus Elementary School and graduated from Mount Carmel Catholic High School in Auburn. Buerkle went to nursing school at St. Joseph's Hospital School of Nursing, earning her R.N. in 1972 and marrying August Buerkle, a doctor, shortly thereafter.
Buerkle worked as a trauma nurse at Columbia Presbyterian Hospital in New York City and as a nurse's aide instructor at Roosevelt Roads Naval Hospital until 1976, when she and her family moved back to the Syracuse area. She then earned a B.A. in science at LeMoyne College in 1977 and began her involvement in the crusade against abortion. She continued to work as a substitute school nurse as she helped raise her family. In 1986, she also worked as a manager of the Camillus Mall shopping center.
Buerkle ran unsuccessfully for a seat in the Onondaga County legislature in 1987 and in 1989. In 1988, she earned the Onondaga County Conservative Party's nomination for the House of Representatives, but dropped out of the race.
Buerkle went to law school at Syracuse University, earning a J.D. in 1993. She handled medical malpractice cases early on and in 1994 was appointed to a seat on the Syracuse Common Council. One of her issues was to propose a curfew of 10 pm on schooldays for children younger than 16 and 11 pm on Fridays and Saturdays. Later that year she ran for a full term, but lost the election.
Buerkle then worked for the Cherundolo, Bottar, & McGowan law firm, first as a clerk and then as an associate. She joined the New York Attorney General's office in 1997 as an assistant attorney general assigned to recover money owed by insurance companies to the State University of New York Upstate University Hospital as a result of the companies' rejection of patients' medical claims. Also that year, she and her husband divorced. She worked for the attorney general's office until 2009, along with building a small commercial real estate business.
In 2010, Buerkle won the GOP nomination for New York's 25th District congressional race and she defeated Democratic incumbent Dan Maffei by 567 votes. In Congress, Buerkle came out for repeal of the Affordable Care Act and elimination of the Department of Education. She co-sponsored the No Taxpayer Funding for Abortion Act. She voted in favor of Rep. (now-Viee President) Mike Pence's bill to defund Planned Parenthood. And she supported Rep. (now CIA Director) Mike Pompeo's attempt to defund the Consumer Product Safety Commission's online database, SaferProducts.gov, which she now oversees.
During her term of office, she was chair of the Veterans' Affairs Subcommittee on Health. In one of her last official acts, in 2013, she voted against the bill that kept the U.S. economy from falling off the fiscal cliff because she opposed raising the debt ceiling. By that time, after a rearranging of district boundaries, Buerkle had already lost a rematch to Maffei.
During her losing campaign in 2012, she ran TV ads criticizing Maffei for using taxpayer money to give lump-sum bonuses to his staffers after he lost. However, when she lost, she did the same thing.
President Barack Obama, upon the recommendation of Senate Minority Leader Mitch McConnell, appointed Buerkle in May 2013 to a Republican seat on the CPSC. She has been a consistent pro-industry vote for looser regulation and trusting businesses to enforce their own safety standards. For example, in March 2016, she was the only CPSC member to vote against the record $15.4 million civil penalty imposed on Hong Kong-based Gree Electric for selling humidifiers they knew were prone to catch fire and falsely placing safety certification marks on their products. In November 2016, she was the only CPSC commissioner to vote against even publishing a proposed rule addressing risks associated with portable generators.
Just after Donald Trump took over the White House Buerkle abstained from a vote on fireworks safety. Her justification was that Trump had sought a freeze on new regulations. Even though that didn't apply to the independent CPSC, Buerkle said she wanted to adhere to the "spirit" of the request. "Seeking to reduce regulatory burdens is responsible governance," she said in a statement. Likewise, she cited Trump's election to oppose setting a mandatory standard for infant slings.
Buerkle was an early supporter of Carly Fiorina for the 2016 Republican nomination for president. She has six adult children, August, Betsy, Tom, Amy, Christine, and Caroline, and 17 grandchildren.
-Steve Straehley, David Wallechinsky
To Learn More:
Official Biography (CPSC)
Official Biography (House of Representatives)
Trump Nominates Auburn Native Ann Marie Buerkle to lead Consumer Product Safety Commission (by Robert Harding, Auburn Citizen)
Consumer Safety Commission Looks to Reduce Regulatory Burdens (by Lydia Wheeler, The Hill)
Ann Marie Buerkle (NY-24) Research Book (Research Department of the Democratic Congressional Campaign Committee)
Ann Marie Buerkle Adds Congressional Campaign To Medical, Law, Business Career (by Adele DelSavio, 55 Plus)