Chair of the Board of the Corporation for Public Broadcasting: Who Is Lori Gilbert?
Wednesday, April 05, 2017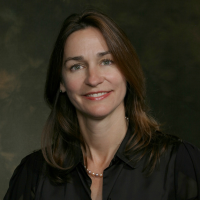 Lori Gilbert
Lori Gilbert—whose real name is Loretta Sutliff—was chosen to be chair of the Corporation for Public Broadcasting (CPB) for one year beginning in September 2016. She has been a member of the CPB board of directors since 2008. Designed to operate independently from politics, CPB does not own or operate any television or radio stations, nor does it produce any programming. Rather, about 89% of CPB's $415 million annual budget is in the form of grants that support nearly 1,300 local public television and radio stations. President Donald Trump's draft budget proposal would completely defund CPB.
Born Loretta Cheryl Sutliff on August 1, 1963, at Hill Air Force Base in Ogden, Utah, she took the name Lori Gilbert in 1983 when she became a radio broadcaster in Elko, Nevada. Gilbert studied communications at Weber State University in Ogden, Utah, and has taken continuing education courses at Great Basin College in Elko, Nevada.
Gilbert began her broadcasting career in 1983, focusing on news. Since October 1986, she has been news director at KELK/KLKO Radio in Elko, Nevada, where for about 18 years she has hosted a daily half-hour community news program, "Elko Live." In June 1997, Gilbert became the founding news director and first anchor of KENV TV News 10 in Elko.
Gilbert was appointed to the CPB board by President George W. Bush in 2008, and reappointed to a second term by President Barack Obama in 2013. Elected chair in September 2016, she also chairs the Education Committee and served as board vice-chair from 2014 to 2016.
She has been a member of the board of directors of the Associated Press Television and Radio Association of California. She has served on the boards of the Elko County Family Resource Center, the Boys and Girls Club of Elko, and on the Elko County Juvenile Advisory Board.
In 2003, Gilbert had a voice role in the movie Identity, starring John Cusack. From 1998 to 2010, Gilbert was an adjunct instructor of Journalism at Great Basin College in Elko, Nevada.
She is married to Dr. John Patrick Rice, formerly a professor at Great Basin College and now a member of the Elko City Council. They have a daughter, Olivia, born circa 2000. In 2010, Gilbert was diagnosed with breast cancer and underwent a double mastectomy; she later gave an interview about her experience and has been active in the Elko Cancer Network.
-Matt Bewig
To Learn More:
Hearing before the Senate Committee on Commerce, Science, and Transportation
President Obama Announces More Key Administration Posts
Gilbert named chair of Corporation for Public Broadcasting (by Fallon Godwin-Butler, Elko Daily Free Press)