Chair of the Board of NeighborWorks America: Who Is Grovetta Gardineer?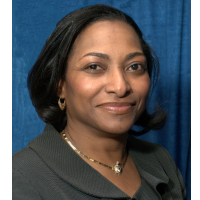 Grovetta Gardineer
Grovetta Gardineer has been the chair of NeighborWorks America (NWA) since June 28, 2016. Established in 1975 as the Neighborhood Reinvestment Corporation, NWA is a nonprofit corporation created by Congress that helps homeowners by providing counseling and assistance through a national network of affordable housing and community development groups. Gardineer is on NWA's board because she is senior deputy comptroller for compliance and community affairs at the Office of the Comptroller of the Currency (OCC), a newly-created position in March 2016.
Born Grovetta Dwythea Nelson circa 1960, Gardineer was one of two daughters of Rev. Grover D. Nelson, who ultimately became pastor of Westminster Presbyterian Church in Laurinburg, North Carolina. After graduating Laurinburg's Scotland High School in 1978, she earned a B.A. at Wake Forest University in 1982 and a J.D. at North Carolina Central University in 1987.
Gardineer went to work for the Federal Deposit Insurance Corporation (FDIC) circa 1988 as an attorney handling enforcement actions and preparing policies and regulations affecting the financial services industry, including the policy statement for minority-owned institutions. She also developed national enforcement training for legal and examination staff.
She joined the Office of Thrift Supervision (OTS) in April 2006 as assistant managing director of supervision policy. From 2008 to 2010, she served as the managing director for corporate and international activities. She was also vice-chairperson of the Subcommittee on Community Banks at the American Bar Association.
Gardineer joined the OCC in 2010 as the managing director for supervision policy, where she was responsible for several programs, including capital policy, credit risk, trust operations, accounting policy, and information technology risk assessment. She was named deputy comptroller for compliance risk in February 2011, where she oversees development of policy and examination procedures relating to consumer issues and anti-money laundering.
Grovetta Gardineer is married to Vaughn A. Gardineer, who works for the Justice Department. The couple has three children, Veahna, Blaise and Vance.
-Matt Bewig
To Learn More:
NeighborWorks America Names Grovetta Gardineer Board Chair (MarketWired)