CEO of the Corporation for National and Community Service: Who Is Barbara Stewart?
Thursday, December 07, 2017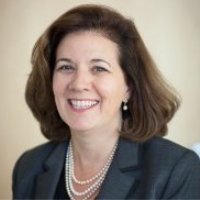 Barbara Stewart
Barbara Stewart, a former lobbyist for JPMorganChase who more recently ran her family charitable foundation, was nominated November 21, 2017, to lead the Corporation for National and Community Service. The independent agency is responsible for making grants to support service and volunteering, with AmeriCorps one of its more well-recognized efforts.
Stewart was born in 1963 to Jim and Jean Stewart and moved with her family to Wheaton, Illinois, while she was in grade school, when her father started a job with Sears. Stewart attended nearby Northwestern University, earning a B.A. in political science in 1985 and a master's in management in 1995.
Stewart spent about five years working in the office of Illinois Governor James Thompson (R) on his policy and program staff. In 1991, as Thompson's term was ending, Stewart moved into government relations for Commonwealth Edison, the Chicago-area electric utility. She returned to politics in 1996 as deputy chief of staff to Lieutenant Governor Bob Kustra (R-Illinois). Stewart stayed there only briefly, however, leaving in 1997 to become a vice president at the Fleishman-Hillard public relations firm.
Stewart made another dive into the political world in 1999, when she served briefly as director of policy for another Illinois Republican, Lieutenant Governor Corinne Wood. Later that year, Stewart left to work for Bank One's government relations department. She remained there as it was taken over by JPMorganChase and when Stewart left in 2010, she was senior vice president for government relations.
Stewart did some consulting work in the fields of government relations, public policy and philanthropy. She served for many years on the board of directors, and president, of Christopher House, which operates schools for low-income families. In 2013, she became executive director and trustee for the Bowe-Stewart Foundation, which she founded with her husband, Peter Bowe. The foundation funds early childhood education, skills development and job training efforts in Stewart's home of Chicago and in Baltimore, where Bowe is based and is CEO of Ellicott Dredges.
-Steve Straehley
To Learn More:
Barbara Stewart (LinkedIn)