California Prisoner Early Release Program Accused of Discriminating against Men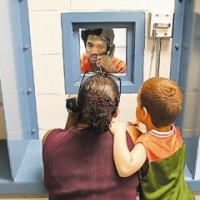 (photo: Sense & Sustainability)
Two prisoners have brought a federal suit (pdf) against the California Department of Corrections and Rehabilitation (CDCR), claiming its Alternative Custody Program (ACP) discriminates against men.
Michael Berman and Darrell Stapp, both serving time at a state prison near Soledad, were denied entry into ACP, which allows low-level offenders to finish serving their sentences near their homes so they can help take care of family members. The program has more than 400 women, but no men. ACP permits participants to live at private residences, get jobs and attend rehabilitation programs.
Berman wants to be in ACP so he can help raise his young daughter, while Stapp's ailing mother could use his assistance, he says.
The inmates' counsel, Rosen Bien Galvan & Grunfeld, says their clients were rejected from ACP "for no other reason than that they are male."
"It is hard to believe that in 2015 the State of California is operating a facially discriminatory program that perpetuates the outdated stereotype that only women can be caregivers. Our clients meet the stringent criteria of this program except for their gender. The Governor and CDCR should stop defending their discriminatory law and let qualified men participate in the ACP," attorney Gay Grunfeld said.
"Defendants' policies de-legitimize the role that men play in their families and harm children by preventing them from re-uniting with their fathers. Excluding qualified men from the ACP also contributes to California's longstanding overcrowding crisis."
-Noel Brinkerhoff
To Learn More:
Federal Lawsuit Challenges Unconstitutional Exclusion of Male Prisoners from California Family Reunification Program (Rosen Bien Galvan & Grunfeld LLP)
California Bars Male Inmates From Program (by Nick Cahill, Courthouse News Service)
Michael Berman and Darrell Stapp v. Governor Jerry Brown (U.S. District Court, Northern California) (pdf)