Bush Administration Allowed Chinese to Abuse Anti-Communist Guantánamo Prisoners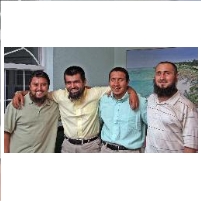 Uighurs in Bermuda (photo: Mark Tatem, Bermuda Royal Gazette)
It turns out that the United States wasn't the only government conducting interrogations of detainees at Guantánamo Bay, Cuba. With the permission of the Bush administration, representatives of the People's Republic of China were allowed in 2002 to interrogate, threaten and abuse a group of Uighur detainees held at the U.S. military base. Five Chinese interrogators were allowed to see the anti-Communists, who were captured during the U.S. invasion of Afghanistan, even though the Uighurs objected to the meeting.
According to four Uighurs who have been released by the U.S. and are now in Bermuda, the Chinese questioned some of their colleagues for 18 hours straight in extreme cold, depriving them of food and sleep. It was also reported that the night before the interrogations began, American soldiers were instructed to wake up the Uighurs every 15 minutes, in an effort to "soften them up" for the Chinese interrogators.
The Uighurs in Bermuda ended up spending seven years at Guant
ánamo, and 13 others remain there still while the U.S. government tries to find them a new home. The Chinese Communist government has reportedly pressured other governments not to take in the former detainees, and American lawmakers object to letting them reside in the United States. Washington is currently in talks with the government of
Palau
about accepting some of the remaining Uighurs.
Despite their long imprisonment,
the Uighurs say they harbor no hard feelings towards the U.S. "We don't blame the United States for seven years spent in captivity, because the communist Chinese government is the main reason for this," Khalil Manut told The Huffington Post.
In a separate interview with the Bermuda Sun, Manut, a merchant and sweet maker, explained that he fled China to escape religious persecution. Unable to obtain a visa to live in the U.S. or Europe, he ended up in Afghanistan. When U.S. forces invaded that country in 2001, he left for Pakistan, where, along with other Uighurs, he was sold by villagers to the Americans. Apparently, it did not take long for U.S. interrogators to determine that the Uighurs were not really terrorists, but because of the policies of the Bush administration and its cooperative relations with the Chinese government, Manut and the other Uighurs remained imprisoned at Guantánamo anyway.
From Bermuda, Manut was able to place a phone call to his family in China. Although they had never heard of Bermuda, "They were happy for me," he said. "They said respect people, be nice and they will be nice to you."
-Noel Brinkerhoff, David Wallechinsky