Belize's Ambassador to the United States: Who Is Daniel Gutierez?
Tuesday, November 21, 2017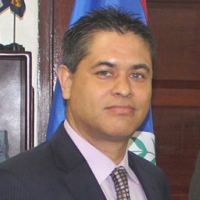 Daniel Gutierez
Francisco Daniel Gutierez presented his credentials as ambassador from Belize to President Donald Trump on July 21, 2017. Gutierez also serves as Belize's ambassador to the Organization of American States.
Gutierez was born in 1974 in San Ignacio, Cayo district, in the western part of Belize, not far from the border with Guatemala. He attended primary and secondary school in San Ignacio before going to Rafael Landivar University in Guatemala. He earned a degree in communications and advertising in 1997. Gutierez then came to the United States to continue his education at Philadelphia's St. Joseph's University. There, he earned an M.S. in international marketing in 1999.
Gutierez returned to Belize to lecture in business, marketing and communications at Sacred Heart College, a high school and junior college in San Ignacio. In 2003, Gutierez was named dean of the junior college.
Gutierez left his post as dean in 2006—while taking a seat on the school's board of governors—for a job as manager of marketing, logistics, corporate communication and business development for Belize Natural Energy (BNE), an oil company.
He left BNE in 2015 and in January 2016 took his first ambassadorial post, serving as his country's representative to Caricom, the Caribbean Community, headquartered in Georgetown, Guyana. In addition, Gutierez served as executive director of Belize's Economic Development Council.
Gutierez is married and has two children.
-Steve Straehley
To Learn More: