Bank Customers' Right to Sue Financial Institutions on Verge of Being Restored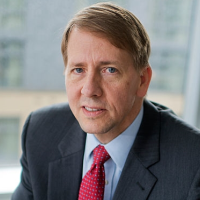 CFPB director Richard Cordray (photo: Tom Williams, Getty Images)
By Jessica Silver Greenberg and Michael Corkery, New York Times
The nation's consumer watchdog is unveiling a proposed rule Thursday that would restore customers' rights to bring class-action lawsuits against financial firms, giving Americans major new protections and delivering a serious blow to Wall Street that could cost the industry billions of dollars.
The proposed rule, which would apply to bank accounts, credit cards and other types of consumer loans, seems almost certain to take effect, since it does not require congressional approval.
In effect, the move by the Consumer Financial Protection Bureau — the biggest that the agency has made since its inception in 2010 — would unravel audacious legal maneuvers by corporate America that have prevented customers from using the court system to challenge potentially deceitful banking practices.
Honing their plan over decades, credit card companies, banks and other lenders devised a way to use the fine print of their contracts to push consumers out of court and into arbitration, where borrowers must battle powerful companies on their own. Without the ability to pool resources, most people abandon their claims and never make it to arbitration.
The new rules would mean that lenders could not force people to agree to mandatory arbitration clauses that bar class actions when those customers sign up for financial products. And while those rules are not final yet, financial industry lawyers say they will be tough to derail.
"It's going to spell the end of arbitration," said Alan S. Kaplinsky, a lawyer with the firm Ballard Spahr in Philadelphia, who opposes the proposed rule. "It will lead to a huge upsurge in litigation and take away a benefit to consumers."
Kaplinsky and other backers of arbitration argue that the private legal system is a more expedient way to resolve disputes. But in a yearlong investigation, The New York Times created its own database showing that despite the industry's claims, few people ever go to arbitration once their effort to build a class-action case is blocked.
"Many banks and financial companies avoid accountability by putting arbitration clauses in their contracts that block groups of their customers from suing them," Richard Cordray, director of the Consumer Financial Protection Bureau, said in a statement.
The rule would apply only to the consumer financial companies that the agency regulates. It would not apply to arbitration clauses tucked into contracts for cellphone service, car rentals, nursing homes or employment. The changes would not apply to existing accounts.
To Learn More:
Consumer Finance Bureau Accused of Giving Higher Rankings to White Employees (by Danny Biederman and Noel Brinkerhoff, AllGov)
U.S. Banks Profit from Facilitating Fraud against Their Customers (by Noel Brinkerhoff, AllGov)