Net Worth of Average American Family Reverts to Lowest Level in 20 Years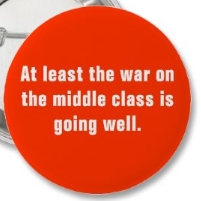 As a result the last two recessions and their weak recoveries, American families find themselves going backwards as their net worth today is the lowest since the early 1990s.
From 2007 to 2010, during which the country endured the Great Recession, the median inflation-adjusted net worth of families plummeted 38.9%, from $126,400 to $77,300, according to the
Federal Reserve
. Not since 1992 has the net worth of the average American family been so low. The only economic group to gain wealth since 2001 was the richest 10% of Americans.
The Fed also reported that the median value of family income before taxes declined 7.7%, from $49,600 in 2007 to $45,800 in 2010. The drop was even worse for families in the South and West.
The effects of the Great Recession followed a stretch of weak growth for family incomes from 2000 to 2007, a period that included the Dot.Com recession and its own tepid recovery.
Larry Mishel, president of the
Economic Policy Institute
, said that the last decade marked the first time since the end of World War II that workers made almost no progress on wages throughout an entire business cycle, according to McClatchy Newspapers.
"It's why I think about it as a lost decade for families," Mishel said.
-Noel Brinkerhoff
To Learn More: