Assistant Secretary of State for Consular Affairs: Who Is Carl Risch?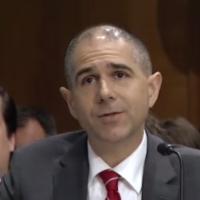 Carl Risch (photo: C-SPAN)
Carl C. Risch, who once worked as a consular officer in Europe, was nominated on June 21, 2017, to lead the Bureau of Consular Affairs in the State Department.
Risch was born March 10, 1970, in Bloomsburg, Pennsylvania. His father worked in an auto parts factory. In his Senate confirmation hearing testimony, he stated, "Being an adopted person, I have also felt a special kinship with the abandoned, the orphaned, and the forgotten, and this kinship has influenced me throughout my life."
Risch stayed close to home for college, earning a B.A. in political science from Bloomsburg University in 1992, and went on to earn a J.D. from Dickinson School of Law in 1995.
After passing the bar, Risch worked as a litigation associate for Kirkpatrick and Lockhart. In 1997, he moved to Martson Deardorff Williams & Otto in Carlisle, Pennsylvania, where he specialized in corporate law, business transactions, and land use and development. From 1998 to 1999, he was also an assistant adjunct professor of business law at Franklin & Marshall College.
Risch joined the Foreign Service in 1999. Although most such applicants look at such a job as a career, Risch only took a leave of absence from his law firm to join the State Department. After the usual intensive training given all new Foreign Service officers, he was sent to the U.S. consulate in Amsterdam, where he managed the Nonimmigrant Visa Unit. He also managed the American Citizens Services Unit at the U.S. embassy. He rejoined his law firm in 2002 and was made a partner at age 33.
Shortly after leaving the State Department, Risch testified to Congress urging that the issuance of visas, which had been part of Risch's job in Amsterdam, be moved to the then-newly formed Department of Homeland Security. He said the visa-granting process "has nothing to do with diplomacy." The State Department continues to issue visas and that activity will likely be led by Risch.
As an attorney, Risch took one controversial case in 2005-2006, when he represented an Islamic center that wanted to set up a worship center in an industrial part of North Middleton Township in Pennsylvania. The zoning board there agreed to let the congregation worship where they'd planned.
In 2006, Risch returned to government work by joining the U.S. Citizenship and Immigration Services (CIS) in the Department of Homeland Security. After serving as an appeals officer and a manager, he worked as a field officer in the Philippines and at the embassy in Seoul, South Korea and served as acting chief of staff at CIS at the time of his nomination. While with CIS, he made refugee processing visits to Thailand, Pakistan, Namibia and Malaysia to encourage the resettlement to the United States of victims of persecution and torture.
In 2003, Risch said that his role model was Atticus Finch, the attorney from Harper Lee's novel To Kill a Mockingbird. He has been married since 1995 to Wendy Taylor Risch. They have two daughters, Anneke and Ilse.
-Steve Straehley, David Wallechinsky
To Learn More:
Statement to Senate Foreign Relations Committee
Ex-FSO Who Once Advocated Moving Visas to DHS May be the Next Asst Secretary For Consular Affairs (Diplopundit)