Assistant Secretary of Energy for Environmental Management: Who Is Anne White?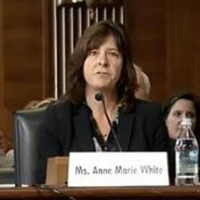 Anne White
After a year of being led by two different "acting" directors, the Office of Environmental Management in the Department of Energy (DOE) finally has a new director in the pipeline. Nominated January 3, 2018, Anne Marie White is a nuclear engineer, an important qualification for running the agency that oversees cleanup of DOE's severely contaminated nuclear weapons facilities. The office has an annual budget of $6.5 billion. If confirmed by the Senate, she will succeed Monica Regalbuto, who served from 2015 until January 20, 2017.
The daughter of Mike and Donna White, Anne White was born on February 3, 1966. She earned a B.S. in Mathematics at the University of Kansas in 1991 and an M.S. in Nuclear Engineering with an emphasis in Health Physics at the University of Missouri-Columbia in 1992.
According to the White House, White has more than 25 years of experience in the nuclear field, working primarily on projects with complex technical, regulatory, and stakeholder issues. She has worked at a number of contaminated DOE sites, and since June 2017 has been decommissioning lead at Atkins Global in Oak Ridge, Tennessee.
White has worked on planning and preparation of a cost estimate for the decontamination and decommissioning of the California Public Utilities Commission reactor at Diablo Canyon. According to her LinkedIn profile, she is also working on strategic waste planning for an unnamed international client. She claims to have founded a consulting firm in 1995. However, her LinkedIn profile only mentions that in January 2005, she founded Bastet Technical Services. Through Bastet, she provides consulting services on international nuclear regulatory development and compliance, radioactive waste management and policy, environmental restoration, and preparation of environmental compliance documentation.
White's nomination has been well-received so far. The Energy Communities Alliance (ECA), an organization of local government impacted by nearby DOE sites, released a statement expressing its support and stressing that White "has been a key resource and good friend to ECA." ECA Executive Director Seth Kirshenberg also told reporter Wayne Barber that White "will bring an in-depth knowledge of the EM program and defense high-level waste issues to the Department."
In 2008 and in 2011, White contributed to Ron Paul's presidential campaign.
-Matt Bewig
To Learn More:
Senate Confirmation Hearing Statement
Industry Sources Upbeat on Nominee to Lead DOE EM (by Wayne Barber, Weapons Complex Monitor)