Assistant Secretary for Verification and Compliance: Who Is Yleem Poblete?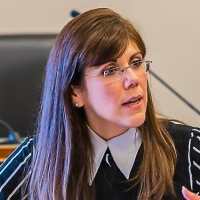 Yleem Poblete (photo: Twitter)
Yleem Marie Sarmiento de Poblete, who served almost 20 years as a Congressional staffer, was nominated October 10, 2017, to lead the Bureau of Arms Control, Verification and Compliance in the Department of State. Since its creation in 2000, the bureau's mission has been to ensure that appropriate verification requirements and capabilities are considered and integrated into the development, negotiation, and implementation of new arms control, nonproliferation, and disarmament treaties, agreements, and commitments. It also serves as the main liaison to the U.S. Intelligence Community and other key policymakers for verification and compliance issues.
The daughter of Miriam and Octavio Sarmiento, Poblete was born in Miami in 1967. She was named Miss Miami of 1985, the same year she graduated from South Miami High School. She earned a B.A. in international relations from her hometown St. Thomas University in 1987, having already completed two years' worth of college classes while still in high school. She went on to earn an M.A. in communications from the University of Miami in 1990. She later added a Ph.D. in world politics and international relations from Catholic University of America in 2006. Her dissertation was on "The Viability of Sanctions as Effective Foreign Policy Tools: The Cases of Iran and Syria."
By 1992, Poblete was working in the Office of the Counsel to President George H.W. Bush. When the Clinton administration took over, Poblete worked as a consultant to the conservative Hudson Institute on defense issues and as a contractor for the International Monetary Fund, conducting comparative analyses of central and organic bank laws.
Poblete moved to Capitol Hill in 1995, working for Rep. Ileana Ros-Lehtinen (R-Florida), for whose campaigns Poblete had been volunteering since age 8. She first was a staffer for the House Committee on International Relations' Subcommittee on the Middle East and Central Asia. In 1997, she moved to the Subcommittee on International Economic Policy and Trade; in 2001 to the Subcommittee on International Operations and Human Rights; and in 2003, back to the Subcommittee on the Middle East and Central Asia.
Poblete was named in 2007 as Republican staff director for the Committee on Foreign Affairs and in 2011 was named its chief of staff and staff director under Chairwoman Ros-Lehtinen. Poblete left Congress in 2013, the year Ros-Lehtinen stepped down as committee chair. She started the Poblete Analysis Group, consulting on foreign affairs issues, and in 2014 became a fellow at the Institute of Policy Research and Catholic Studies.
Poblete is known for pushing tough sanctions on Cuba, and being strongly against President Barack Obama's liberalization of relations with the island. She is also an advocate of more sanctions on Iran and came out against Obama's nuclear deal with the country.
Poblete bears a close enough resemblance to former Alaska Governor and Vice-Presidential nominee Sarah Palin that Poblete was mistaken for Palin at the 2008 GOP Convention. She was the target of autograph seekers even after telling them she was not the one running for office.
Poblete's husband, Jason Poblete, is a former Capitol Hill staffer as well. He's now an attorney and lobbyist.
-Steve Straehley
To Learn More:
Curriculum Vitae Yleem D.S. Poblete, Ph.D. (pdf)
Israel Deserves Better (by Yleem D.S. Poblete, Gatestone Institute)
Iran's Tango with Latin America (by Yleem D.S. Poblete, National Interest)
Say Hello to Sarah Palin's Twin on Capitol Hill (by Betsy Rithstein, The Hill)