Assistant Secretary for Special Education and Rehabilitative Services: Who Is Johnny Collett?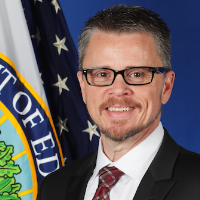 Johnny Collett
Johnny W. Collett, who at one time was Kentucky's director of special education, took office on January 16, 2018, as assistant secretary of the Office of Special Education and Rehabilitative Services (OSERS) in the Department of Education. President Donald Trump nominated Collett to the post on November 15, 2017, and the U.S. Senate confirmed him by voice vote on December 21, 2017. OSERS works to improve the lives of children and adults afflicted by disabilities, working to establish and maintain research and development programs through government grants at the state and regional levels.
Collett is the son of John and Janet Collett. He earned an associate degree in 1991 from Southeast Community College, which at the time was part of the University of Kentucky system. He also earned a certification in learning and behavior disorders from the University of Kentucky. In 1994, Collett received a bachelor's degree from Clear Creek Baptist Bible College, then went on to earn an M.A. in arts and special education from Georgetown College in Kentucky in 2005.
Collett initially followed his father into the ministry and served as a pastor for about ten years. He then became a public school teacher on an emergency credential. He was able to be certified and taught for eight years, much of that as a special education teacher in high school in Scott County, Kentucky.
In November 2008, Collett moved to the Kentucky Department of Education, first as an exceptional children consultant, then as an assistant division director and finally as state director for special education. He left Kentucky in May 2015 for the Council of Chief State School Officers (CCSSO), an organization for those who head state departments of elementary and secondary education in each state. Collett served as CCSSO's program director for special education outcomes, holding that post until his nomination for federal service.
Collett and his wife, Jennifer, have three children: Joanna, Rachel and Tanner.
-Steve Straehley
To Learn More:
Testimony to Committee on Health, Education, Labor and Pensions (pdf)
An Interview with Johnny Collett, Program Director, Special Education Outcomes at the Council of Chief State School Officers (ONEder)