Assistant Secretary for Fair Housing and Equal Opportunity: Who Is Anna Maria Farias?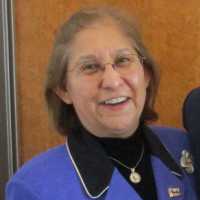 Anna Maria Farias (photo: Texas Woman's University)
Anna Maria Farias, who has worked in Republican administrations since the early 1980s, was confirmed by the U.S. Senate in August 2017 to lead the Office of Fair Housing and Equal Opportunity (FHEO) in the Department of Housing and Urban Development (HUD). President Donald Trump nominated her to the post on June 19, 2017. Discrimination in housing on the basis of race, sex, family status, and other grounds is illegal in the United States. FHEO administers funding, processes discrimination complaints, and oversees enforcement and compliance with federal laws.
Farias was born in San Antonio, Texas, but grew up in Piedras Negras, Mexico. She and her mother, a maid, moved back to Crystal City, Texas, where they lived in the Crystal City housing projects and Farias attended Crystal City High School and was class valedictorian. She earned a scholarship to Boston University (BU), where William Bennett, who would go on to serve as Secretary of Education under President Ronald Reagan, was one of her teachers. Farias graduated from BU in 1976 with a B.A. in political science, language and literature. She went on to earn a J.D. from Philadelphia's Temple University in 1980, specializing in labor and personnel law.
After graduation, Farias went to work as an attorney for the Merit Systems Protection Board, which among other things helps protect government whistleblowers. In 1985, she was brought into Bennett's Department of Education as deputy director of the Bilingual Education Office. Farias moved over to the National Labor Relations Board in 1989 as counsel. Beginning in 1992, she served for a year as a member of the Department of Labor's Wage Appeals Board.
After the Republicans lost the White House, Farias returned to Crystal City in 1993 to serve as executive director of its housing authority, which had sheltered her and her mother years before. Farias even lived in one of the authority's facilities during her tenure. In 2001, she was appointed to the Texas Commission on Human Rights.
When the George W. Bush administration took over in 2001, Farias returned to Washington. Bush put her up to lead the Office of Fair Housing and Equal Opportunity, the same position to which she was appointed in 2017, but the job fell through at that time. Instead, she started as counsel to HUD Secretary Mel Martinez and in 2002 was made deputy assistant secretary for special initiatives in the Office of Community Planning and Development (CPD). In 2004, she moved over to be CPD's deputy assistant secretary for grant programs. Farias was named HUD's director of faith-based and community initiatives in 2007.
Farias returned to Texas when Bush left office and worked in private practice in Brownsville. In 2011, Governor Rick Perry appointed Farias to the board of the OneStar Foundation, which promotes volunteerism and community service in Texas. In 2012, she worked for McConnell International, a consulting firm, and the following year Perry appointed her to the board of regents of Texas Women's University in Denton. She served as chair from February 2017 until being tapped for the HUD post.
At various times, Farias was a board member of MANA, a National Latina Organization, and the Winter Garden Women's Shelter, and president of the Crystal City Lions Club and Crystal City Little League.
Farias became vice-chair of the Bexar County (Texas) Republican Party in 2015. When Donald Trump Jr. appeared in San Antonio for a campaign fundraiser in September 2016 (private round-table discussion $15,000 per couple; a photo reception $2,700; luncheon alone $1,000), Farias gushed, "I'm sure people are going to open their checkbooks. When Donald Jr. spoke [at the Republican convention], my God, people went crazy."
However, with Republican presidential candidate Donald Trump widely seen as being hostile to Latinos, Farias concentrated her efforts during the 2016 election on teaching Hispanic voters how to split their ballot and vote for Republicans for local offices.
-Steve Straehley, David Wallechinsky
To Learn More:
This Year's Most Awkward Job? Latino Republican Outreach (by Evan Osnos, New Yorker)