Assistant Secretary for Elementary and Secondary Education: Who Is Frank Brogan?
Friday, December 22, 2017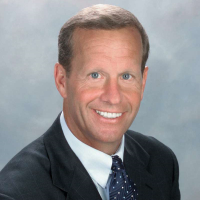 Frank Brogan
Frank T. Brogan, who led Florida's public school system, served as the state's lieutenant governor and went on to be in charge of two states' university systems, was nominated December 11, 2017, to head the Office of Elementary and Secondary Education in the Department of Education.
Brogan was born September 6, 1953, in Lafayette, Indiana, one of six children. Brogan's mother was widowed and worked as a waitress. The family moved to Cincinnati in 1955 and Brogan eventually attended All Saints School and Moeller High, where he graduated in 1971. He then attended the University of Cincinnati, earning a B.S. in elementary education in 1976. In 1981, Brogan added an M.A. in educational leadership from Florida Atlantic University (FAU) in Boca Raton.
Brogan began his career not in education, but selling insurance for L.M. Reid in Fort Lauderdale. Two years later, Brogan joined the Martin County School District as a fifth-grade teacher, was made dean of students at Indiantown Middle School in 1983, named principal of Murray Middle School the following year and in 1988 was elected Martin County's Superintendent of Schools.
In 1994, Brogan won election as Florida's commissioner of education, but not without opposition from teachers' unions. Their concerns were justified when, four years later, Brogan was Jeb Bush's running mate in the state gubernatorial election. "We never got comfortable that he had kids at heart," Jeff Wright, a political action specialist with the Florida Teaching Professionals-National Education Association, told the Associated Press. "We felt many of his moves were political."
Brogan was a good fit with Bush, echoing his stance promoting "voluntary" prayer and the teaching of "creation theory" in public schools. Brogan also supported Bush's push for charter schools, later boasting of their supposed success in testimony to Congress.
Bush and Brogan won election, and re-election in 2002, and Brogan began to be talked up as a candidate for governor after Bush's term was up. However, Brogan left the statehouse the following year to assume the presidency of his alma mater, FAU. The move boosted Brogan's salary—and pension potential—enormously, going from $117,990 to about $500,000 a year.
Brogan was credited with raising FAU's profile and putting it on a more secure financial footing.
He was successful enough that in 2009, Brogan was named chancellor of Florida's state university system. In 2013, he moved north as chancellor of the State University System of Pennsylvania. His tenure there was not as positive, enduring a three-day teachers' strike in 2016.
Brogan retired at the end of August 2017 after a consultant's report criticized the system's administration as being "plagued by weak leadership and dysfunctional management." He soon joined the Trump administration as a "principal deputy assistant secretary" in the Office of Planning, Evaluation and Policy Development, before being formally nominated to lead the Office of Elementary and Secondary Education.
Brogan's first wife (and childhood sweetheart), Mary, died of breast cancer in 1999. He married Courtney Strickland, then a 26-year-old law student, in Ireland in December 2002. The couple has a son, Colby.
-Steve Straehley
To Learn More:
In a Surprise Move, Frank Brogan Retires from Pennsylvania Chancellor Post (by Nancy Smith, Sunshine State News)
Frank Brogan, Florida's Loss (by Nancy Smith, Sunshine State News)
Lt. Gov. Brogan Stepping Down (by Jill Barton, Associated Press)
Brogan, Law Student Marry in Irish Church (by Lucy Morgan, Tampa Bay Times)
Frank T. Brogan (University of Cincinnati)
Testimony to Subcommittee on Early Childhood, Youth and Families