As Voters Deliver Political Quake to Washington, Most Give Thumbs Down to Both Political Parties
Thursday, November 06, 2014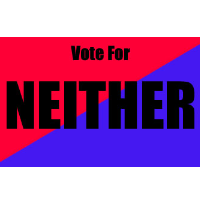 (graphic: Steve Straehley, AllGov)
Republicans would be wise to read the exit polls following Tuesday's midterm election in which they knocked off Democrat after Democrat to win control of the U.S. Senate.
The GOP's successes in the voting booth should not be construed as a sign that Americans approve of their party. On the contrary, most voters made it clear in exit polls that they are fed up with both parties and with President Barack Obama.
In fact, polls showed Democrats to be slightly more popular than Republicans, 44% versus 40%. But that didn't stop the onslaught of losses by Democratic candidates in battleground states. Voters were angry and they took it out on many incumbents, including some Senate Democrats who came into office in the Obama wave of 2008.
Fortunately for Obama, his name wasn't on the ballot. About 60% of those surveyed expressed dissatisfaction with the president's job, just as they did with that of Republican leaders in Congress. Overall, Congress has an 80% negativity rating.
The economy and income inequality continue to be major concerns of Americans. About 70% said they were concerned with economic conditions.
Two-thirds of voters said the country is headed in the wrong direction, and only 22% think the next generation will do better than themselves. Only 1 in 5 voters said they trust the government to do the right thing.
-Noel Brinkerhoff
To Learn More:
Exit Polls: Majority of Voters Dissatisfied or Angry with Washington (by Jeremy Diamond, CNN)
Surveys of Voters Signal Dismay with Both Parties (by Jackie Calmes and Megan Thee-Brenan, New York Times)
U.S. Mid-Terms: Republicans Win Control of the Senate (BBC News)
Republicans Barely Edge Out Democrats as American Voters' Least Favorable Party (by Steve Straehley, AllGov)