Ambassador to Russia: Who Is Jon Huntsman?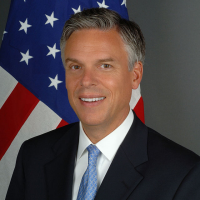 Jon Huntsman
Jon Huntsman, a former ambassador to Singapore and China, urged Donald Trump to leave the presidential race after Trump was heard in October 2016 on a released Access Hollywood tape claiming he could freely grab women by the genitals. Trump apparently got over Huntsman's statement, nominating him on July 18, 2017, to be his envoy to Russia. He was confirmed by the Senate by voice vote on September 28.
Born March 26, 1960, in Redwood City, California, Jon M. Huntsman Jr. is a seventh generation Utahan and one of nine children of Karen and Jon Huntsman. His maternal grandfather, David B. Haight, was an Apostle of the Church of Jesus Christ of Latter-day Saints. His father, also a devout member of the Mormon church, became a billionaire businessman and philanthropist after building the Huntsman Corporation into one of the world's largest chemical companies after inventing the clamshell box for Big Macs.
Huntsman dropped out of high school to be in a rock band. He later attended the University of Utah, where he became a member of the Sigma Chi Fraternity, but did not graduate. Huntsman went to Taipei as a Mormon missionary, which allowed him to learn to speak Mandarin Chinese, as well as Taiwanese Hokkien. On his return, he enrolled at the University of Pennsylvania, where he received a bachelor's degree in international politics in 1987.
After college, he joined the Reagan White House as a staff assistant. He remained in Washington after George H.W. Bush became president, serving as deputy assistant commerce secretary in the trade development bureau from 1989 to 1990, as deputy commerce secretary for East Asia and the Pacific, and as U.S. Ambassador to Singapore (1992-1993). Huntsman was only 32 when he received his first ambassadorship, making him the youngest head of an American diplomatic mission in more than a hundred years.
After his overseas posting ended, Huntsman left government service to go work as an executive in his family's chemical empire. But political life proved too exciting for Huntsman, and in 2001 he accepted an appointment from President George W. Bush to serve as deputy United States trade representative. He then decided to use his wealth and political connections in Utah to run for governor in 2004. He easily defeated Democrat Scott Matheson, Jr. with 58% of the vote, and had an even easier time with his re-election in November 2008, garnering 78% while knocking off Democratic nominee Bob Springmeyer.
During his tenure as governor, Utah was named by the Pew Research Center as the best managed state. Huntsman's biggest political controversy came early in 2009 when he publicly backed civil unions for gay couples, even though he had backed a state constitutional amendment passed in 2004 that prohibited same-sex marriage. The decision angered conservatives in his state and his party. In response to his action, GOP officials in Michigan canceled a county fundraiser where Huntsman was to speak.
From June 2001 until October 2009, Huntsman was a partner in Trustar Limited.
Huntsman reportedly first met with members of President Barack Obama's team late in 2008 about a possible appointment in the administration. He nevertheless went ahead with his preliminary plans to feel out GOP leaders about running for president in 2012. Huntsman traveled to Columbia, South Carolina, in February for a meeting with state business and political leaders. Richard Quinn, a longtime South Carolina Republican strategist who worked for Sen. John McCain (R-Arizona) in 2000 and 2008, said everyone was impressed with Huntsman and that "he seemed to me to be a bright hope for 2012."
Perhaps because Obama believed Huntsman was qualified for the job, or perhaps because he was seen as a political threat in the runup to the 2012 election, Obama appointed Huntsman to be ambassador to China in 2009. His tenure ended in 2011, not long after Huntsman caused a controversy in China by being present in an area where a protest was planned and his name was even briefly blocked in Chinese search engines. Huntsman said he was coincidentally in the area shopping. Huntsman resigned from his post in April 2011 to return to the U.S. and consider a presidential bid.
He did throw his hat into the ring, but his candidacy did not last long. He concentrated on the New Hampshire primary, but after finishing third in that contest behind fellow Mormon Mitt Romney and Ron Paul, he withdrew.
Since January 2014, Huntsman has served as the chairman of the international affairs think tank Atlantic Council. He also served on the boards of Ford Motor Company, Caterpillar Corporation, Chevron Corporation, Hilton Worldwide, the U.S. Naval Academy Foundation, and the University of Pennsylvania, not to mention Huntsman Corporation.
He has also served as president and CEO of the Huntsman Cancer Foundation, and as chair of the Utah Opera, Envision Utah, KSL radio's Family Now Campaign, and the National Governors Association's Natural Resources Committee. Huntsman is also a branch director of Federal Reserve Bank of San Francisco, a member of the advisory board of the University of Utah School of Business.
Huntsman was announced as the nominee to be ambassador in March 2017, but it wasn't formalized until the following July because of Russia's failure to approve him immediately. When the nomination was finally made, the Trump White House initially spelled Huntsman's first name wrong on the announcement.
Huntsman has a formidable task ahead in Moscow. Russia's invasion of Ukraine and subsequent annexation of Crimea; the conflict in Syria; and perhaps most importantly, Russian meddling in the 2016 U.S. presidential election will all be on his plate.
Huntsman's personal interests include rock music and extreme sports. In 2005 he got up on stage at an REO Speedwagon concert and played piano for two songs. Two years later he proclaimed July 30, 2007, to be "Dream Theater Day," in honor of the progressive metal rock band, whose concert Huntsman attended.
He also loves motorcycles. His gubernatorial office has been described as a shrine to extreme sports and motocross racing, replete with model motorcycles and photos of a mud-caked Huntsman riding a dirt bike.
Huntsman's wife, Mary Kaye, is a first-generation Utahan. Together they have seven children: five daughters, Mary Anne, Abby, Elizabeth, Gracie (adopted from China) and Asha adopted from India); and two sons, Jon III and William, who are both in the Navy. The Huntsmans' daughter Abby is a reporter for Fox News and co-host of Fox & Friends Weekend.
-Steve Straehley, Noel Brinkerhoff
To Learn More:
Jon Huntsman: Is Trump's New Ambassador to Russia a Selfless Public Servant or Opportunistic People-Pleaser? (by Lucia Graves, Tom Phillips and Shaun
Walker, The Guardian)
Jon Huntsman (Atlantic Council)
Who Is Jon Huntsman, Trump's Nominee for Ambassador to Russia? (by Oren Dorell, USA Today)
Jon Huntsman Jr. (Wikipedia)