Ambassador to Gabon and São Tomé and Principe: Who Is Joel Danies?
Sunday, November 19, 2017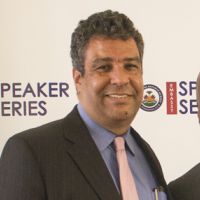 Joel Danies (photo: Haiti Embassy)
The West African nations of Gabon and São Tomé and Principe are getting a new ambassador courtesy of Donald Trump. On October 27, 2017, he nominated Joel Danies for the job. A career foreign service officer, Danies has served as associate dean of the School of Professional and Area Studies, a unit of the Foreign Service Institute that offers training in foreign affairs specialties, since July 2016. If confirmed by the Senate, Danies would succeed Cynthia Akuetteh, who has served in Libreville, Gabon, with concurrent accreditation to São Tomé and Principe, since August 2014. It would be the first ambassadorship for Danies.
Born April 1, 1958, in Jacmel, Haiti, to Edgard and Marie-Thérèse (Boucard) Danies, Joel Edgard Danies earned a B.S. in Zoology/Animal Biology at Loyola College Maryland in 1977 and a B.A. in Political Science and Government at the University of Maryland College Park in 1979. Years later, he earned an M.S. in National Security Strategy at the National War College in 2010.
Danies worked for USAir (now US Airways) before joining the State Department as a Foreign Service Officer in September 1987. Early assignments included general services officer in Sanaa, Yemen, and consular officer and staff assistant to the Ambassador, at the U.S. Embassy in Paris. In 1994, he was a spokesman for Rep. Porter Goss (R-Florida).
He served as management officer and chargé d'affaires in Belmopan, Belize, during and after Hurricane Mitch in October 1998, when Danies used his authority to declare a disaster in order to allow U.S. aid to begin flowing. In 2001, he moved to the U.S. mission in Geneva, Switzerland, serving as senior human rights officer. In 2004 he was bumped up to political counselor there. His next stop was as post management officer in the Bureau of European Affairs. In 2005, he also served as a member of the U.S. delegation to the United Nations Commission on Human Rights. Still in the Bureau of European Affairs, Danies, in 2007, moved up to program analyst and undersecretary for management.
In 2010, Danies traveled to Kabul, Afghanistan, to serve as deputy director of the International Narcotics and Law Enforcement Division at the U.S. Embassy.
From September 2011 to 2014, Danies served as deputy Haiti special coordinator, helping his native land recover from the devastating earthquake of January 2010. In that role, Danies sometimes found himself in awkward positions trying to explain American policies that were unpopular among Haitians.
Danies worked as chief of staff in the State Department's Bureau of Administration from
June 2014 to July 2016.
Danies speaks French, Haitian-Creole, and Arabic. His wife, Caren Danies, was recently elected vice-president of the Women's Diplomatic Series in Washington. The couple has two adult children, Blair and Judson.
-Matt Bewig
To Learn More:
Certificate of Demonstrated Competence
Haiti News: Joel Danies, a Capable Man on an Awkward Mission (by Parnell Duverger, Omego World News)
"Les Etats-Unis sont neutres," selon Joël Danies ("The United States is neutral," according to Joel Danies) (by Roberson Alphonse, RTVC) (in Haitian Creole)
Audio: Jean Monard Metellus a croisé le fer avec Joel Danies un représentant du département d'état Américain (Audio: Jean Monard Metellus crossed swords with Joel Danies a representative of the US State Department) (Tout Haiti) (in Haitian Creole)
Interview Joel Danies un représentant du département d'état Américain (Youtube video, in Haitian Creole)
VIDEO: Interview of Joel Danies, No 2 Haiti Official inside US Department of State (Belpolitik.com) (video, in Haitian Creole)